Team honored for support of individuals living with special needs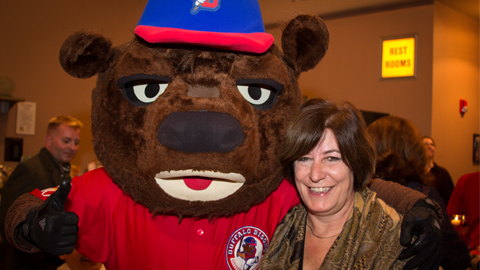 The Parent Network of WNY is proud to announce that this year's recipient of the Community Partnership Award is the Buffalo Bisons. The award will be presented on Thursday, October 17 (7:00 p.m.) at the Alleyway Theatre before the group's debut of the play, "Always October."
The Community Partnership Award is presented every year to an agency, school, or person who has assisted individuals with special needs through their activities. The Bisons are an avid supporter of individuals with special needs. Their support of persons with disabilities is not a product of a special effort, rather, they include people with disabilities as members of the community and treat this as "business as usual."
The Community Partnership Award is presented in conjunction with Parent Network's annual Harvest Honors Fundraiser. Funds raised are utilized to educate families of children with disabilities about services and supports in the community.
As part of Harvest Honors we will be hosting a Silent Auction and Basket Raffle along with the Red Carpet premier of "Always October". This ground-breaking play was co-written by Western New Yorkers Mary McLaughlin, Wanda Wilson and Beth Geyer, directed by Victoria Pérez with a cast comprised of both individuals with and without disabilities, as well as parents of those with disabilities.
The Harvest Honors fundraiser is on October 17th and will begin at 5:30pm with a cocktail reception, a silent auction/basket raffle and award ceremony. The main event at Harvest Honors will be the opening of "Always October". The play will then continue its run until Sunday October 20th. All evening performances are at 7:30pm with a Sunday matinee at 2pm. The fundraiser/play will take place at Alleyway Theatre-1 Curtain Up Alleyway in the heart of Buffalo's downtown theater district. For ticket information please call Peg Kovach at 332-4170 or visit our website at http://www.parentnetworkwny.org/harvest-honors.
This article originally appeared on the official website of the Buffalo Bisons. Click here to view the original story.