Community service award is named after Wilmington team's founder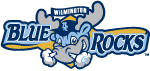 The Wilmington Blue Rocks were honored by the Carolina League on Wednesday with the Matt Minker Community Service Award, which goes to the club that best demonstrates an outstanding, on-going commitment to charitable service, support, and leadership within its community. The award is named after the Blue Rocks' founder, who owned the club until his death in 2007. Minker, whose construction company also built Frawley Stadium, is still the team's honorary president. It is the first year the title has been awarded to an entire organization, after going to individual players since its inception in 2009.
"Matt Minker was instrumental in laying the foundation for the Blue Rocks and for the franchise's success in the years to follow," said Blue Rocks general manager Chris Kemple. "It is fitting and appropriate that this honor bears his name and we are absolutely privileged to be the first organizational recipient."
The Blue Rocks won the award thanks in large part to their numerous school programs, charitable endeavors and hospital visits.
As an organization the Blue Rocks work with area schools to promote academic achievement (Rocky's Reading Challenge), citizenship (Outstanding Student Program), and active lifestyles (Titus Sports Champions Physical Health Program). The team helped raise tens of thousands of dollars for good causes through partnerships with Habitat For Humanity, Boys & Girls Clubs of DE, Fight for the Gold, Delaware Breast Cancer Coalition and many other charities in 2014. It also contributed school supplies to the Red Clay School Consolidated School District during the Remax Stuff the Bus Campaign and donated thousands of tickets to other worthy community programs. Several times each season the team also visited the Nemours/Alfred I. duPont Hospital For Children, brightening the spirits of that facility's patients and their families.
"We could not accomplish much of what we do without the partnership and cooperation of our players and the Kansas City Royals organization," said Blue Rocks director of community affairs Kevin P. Linton. "Their commitment to community fits perfectly with the vision that Matt Minker set forth for the Blue Rocks franchise and that we continue to follow to this day."
Community service is so engrained within the organization that three of the five times the award was presented to individual players it went to Blue Rocks. Everett Teaford was the inaugural winner in 2009 and was followed by Tim Melville in 2011 and Whit Merrifield in 2012.
As the Carolina League's recipient of the Matt Minker Award, the Blue Rocks received the eight-team league's automatic nomination for the John Henry Moss Community Service Award, given out by Minor League Baseball at its annual national convention, to be held this December in San Diego.
This article originally appeared on the official website of the Wilmington Blue Rocks. Click here to view the original story.