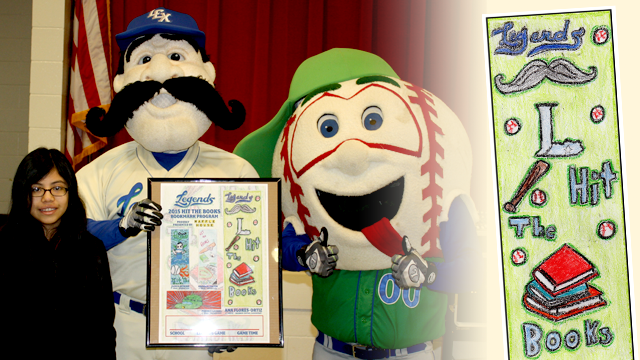 Ana Flores-Ortiz, a fifth grade student at Bourbon Central Elementary School, was the winner of a bookmark design contest that is part of the Lexington Legends Hit the Books reading incentive program sponsored by Waffle House.
Ana received a Legends prize pack, including Legends merchandise, a framed Hit the Books poster featuring her artwork, and membership in the 2015 Little Legends Kids Club. She also will be invited to throw a ceremonial first pitch at a designated Legends game for her school. Bookmarks featuring her artwork will be distributed to students at every school that participates in the Hit the Books program. More than 30,000 students from 74 central Kentucky schools are expected to take part in the program, which runs through April 1.
"Hit the Books will continue to be an important part of community outreach for the Legends," said Tim Vieira, the Legends' community outreach coordinator. "We enjoy going out to the schools and meeting with students. It's great to be part of a program that has a positive impact in the educational development of so many students."
In Hit the Books, a baseball diamond is used to record credit for a student's reading. For every book a student reads, a teacher places his or her initials on a base. When the student has all three bases and home plate initialed by the teacher, the student may bring a Hit the Books bookmark to the Legends' box office at Whitaker Bank Ballpark to exchange it for two tickets to a Legends home game designated for their school.
The 2015 season is the 15th for Legends baseball, and also marks the 15th year that the Legends have been associated with Hit the Books. About 205,000 students have participated.
This article originally appeared on the official website of the Lexington Legends. Click here to view the original story.