Here is a link to the original story on the team's website.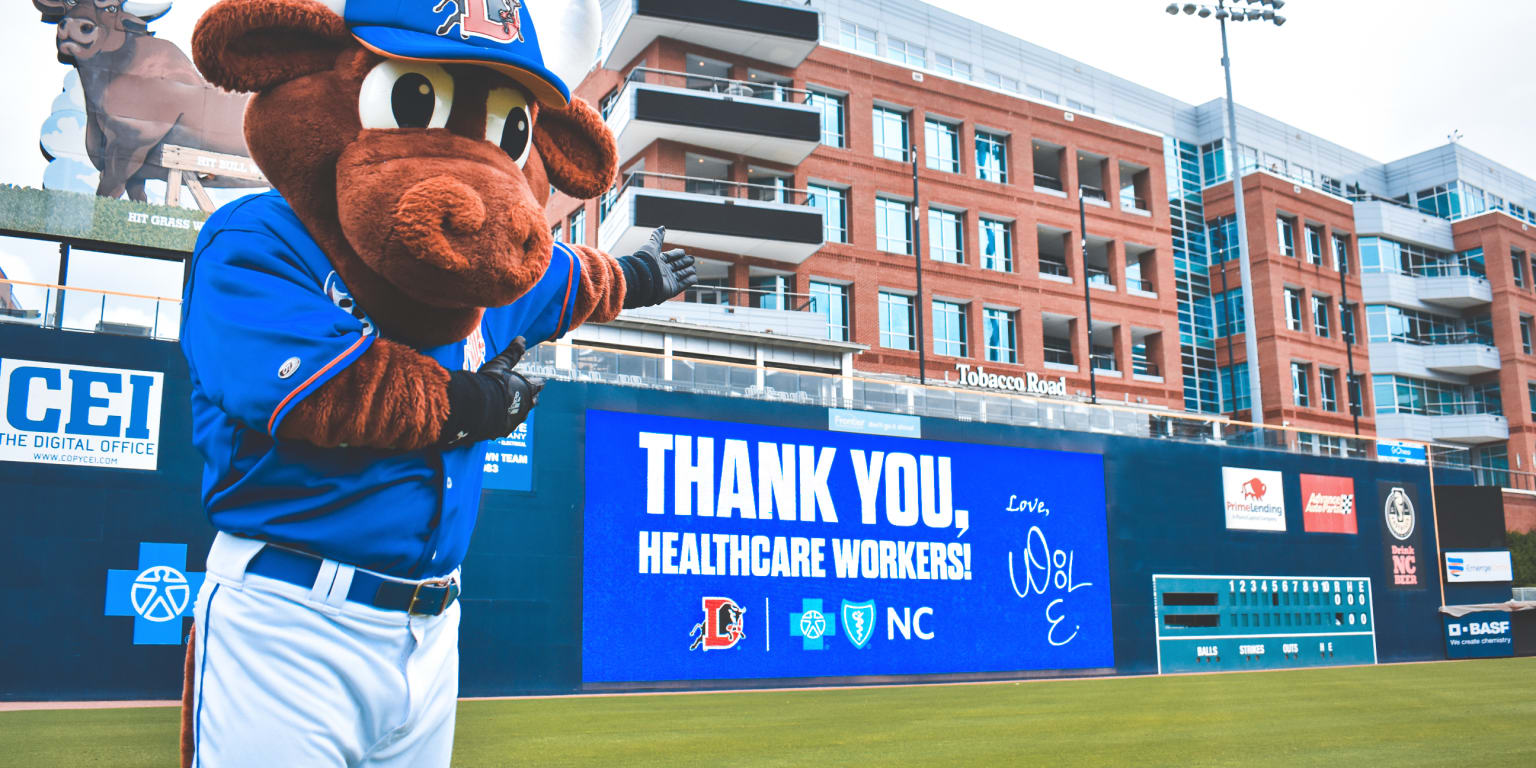 The Durham Bulls announced the launch of a summer community outreach program in partnership with Blue Cross and Blue Shield of North Carolina (Blue Cross NC) to recognize the effort and sacrifice made by health care workers during the COVID-19 crisis and beyond. As a way to say thank you, health care workers in Durham and Chapel Hill will receive professionally prepared meals, along with recognition on social media and more.
"We are happy to partner with Blue Cross NC on this outstanding community program," said Chip Allen—Assistant General Manager at Durham Bulls Baseball Club. "Frontline health care workers and many other essential workers in our community put themselves in harm's way every day to help us. We hope rewarding these health care workers during the summer, through a meal, a day out at the stadium, or their name in lights in front of the ballpark represents a small part of how grateful we are here at the Bulls."
Beginning today, the Bulls and Blue Cross NC will deliver 600 meals per week to health care workers at Duke Health and UNC Health locations, along with other small tokens of appreciation such as Bulls ticket vouchers.
This eight-week program will be executed by Bulls and Blue Cross NC staff, including the greatest mascot in the world, Wool E. Bull! Individually packaged meals will be prepared by Blue Cross NC's cafeteria vendor, Compass. Health care workers will also be recognized with photos, videos and special messages on social media.
In addition to the meals and social media recognition, the Durham Bulls and Blue Cross NC will also launch a "Community Heroes" campaign, allowing fans to nominate community workers who have gone above and beyond in times of need. Winners will be featured on Bulls and Blue Cross NC digital channels, as well as on signage at and around Durham Bulls Athletic Park (DBAP). The program will culminate in a health care worker appreciation day hosted at the DBAP, where local health care workers and their families will be invited to enjoy a day of fun on the field.
"Blue Cross NC is honored to work with the Durham Bulls to show our appreciation to health care workers in the community we call home," said Reagan Greene Pruitt, Vice President of Marketing and Community Engagement at Blue Cross NC. "We value and respect the dedication of these health care professionals working tirelessly to protect the health and safety of all North Carolinians."
Additional information on this program can be found on the Durham Bulls website (https://www.milb.com/durham/community/meals-for-medics). We encourage the entire community to check out our website and social channels for opportunities to participate in this program and send messages of thanks to our community heroes.