This past Saturday, June 23rd Blackstone Valley Community Health Care of Pawtucket, Rhode Island hosted children from surrounding community organizations such as Hockymock YMCA and Boy's Town New England, among others, to attend a private baseball skills session. The theme of the day was 'Get Active' as BVCHC has joined in the fight against the epidemic of childhood obesity in the United States.
According to the US Center for Disease Control and Prevention (CDC) the percentage of children 6-11 who are obese in this country has risen from 7% in 1980 to nearly 20% in 2008. Similarly, in the adolescent 12-19 age group the number has risen from 5% to 18%. Healthy eating and physical activity are essential to lowering these percentages and keeping the children of this country healthy and ready for bright futures.

On the 23rd the children were greeted at McCoy Stadium with complimentary PawSox t-shirts commemorating that day and were soon ushered onto the field where PawSox players greeted and took them through stations that worked on pitching, fielding, and hitting skills. Pitcher Alex Wilson took up in the visitor's bullpen to teach the basics on different pitch grips and wind-up mechanics. Infielder Tony Thomas went over some basic batting stances and how to "squish the bug" with your back foot and use the core for a powerful swing. Finally infielder Jon Hee took out a fungo bat, hit the participants some grounders and reminded everyone to look the ball all the way into their gloves.

After the physical part of the camp was over the players took the time to sign anything and everything for the kids including t-shirts, bats, balls, and gloves. To wrap things up the kids were fed a healthy lunch of salad, grilled chicken, baked potato, corn on the cob and watermelon. Every child who participated was also encouraged to come back for the game at 6:05pm that evening when the Pawtucket Red Sox hosted the Louisville Bats. Two reserved box seats were presented to each child, again, courtesy of BVCHC.
Blackstone Valley Community Health Care was inspired by First Lady Michelle Obama's 'Let's Move' campaign that has similar interests in raising a generation of healthy kids. You can find more information about this movement at www.letsmove.gov. Please also visit Blackstone Valley Community Health Care's website www.blackstonechc.org.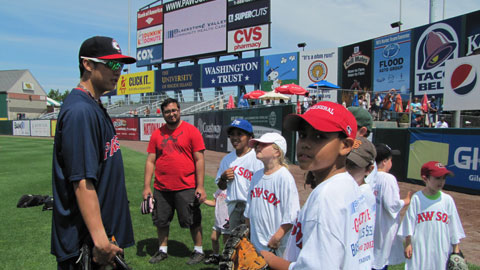 This article originally appeared on the official website of the Pawtucket Red Sox.  Click here to view the original story.