Here is a link to the original story on the team's website.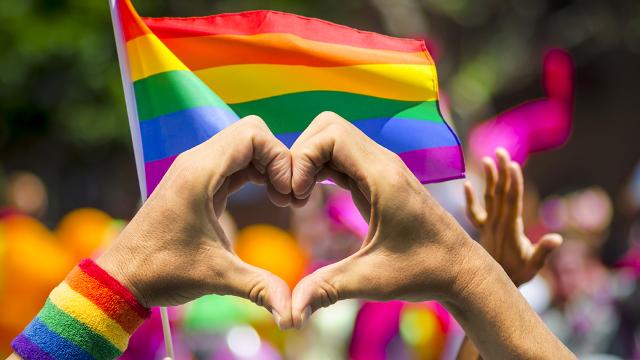 Join us on Thursday, August 24, for the first ever pregame Pride Party in Hensville Park. The pregame event will feature live entertainment on the Hensville Park stage. It's part of our Holy Toledo Thursday celebrations presented by Toledo.com.
ENTERTAINMENT
Kids with Knives – Hensville Park stage – 5:30 to 7 p.m.
PRIDE T-SHIRTS
Mud Hens Pride t-shirts will be available for sale during the Pride Party in Hensville Park.
The Mud Hens will take on the Clippers on Thursday, August 24 at 6:35 p.m.
GAME TICKET ($12) – BUY TICKETS
What you get:
August 24 Mud Hens game ticket
Click the links to check out the menus and make reservations:
NINE at Hensville: ninehensville.com | Chef Tony has put together a menu that he describes as "traditional Americana" where he uses local ingredients from area farms and producers to create made-from-scratch dishes with a modern taste and composition. NINE is housed in the former Folger Butcher Shop, a historic 1865 building. Exposed brick, reclaimed wood and handcrafted tables give NINE a casual vibe that fits a fun, downtown, neighborhood restaurant.
Fleetwood's Tap Room: fleetwoodshensville.com | Have a drink at Hensville's new craft beer bar, located on the first floor of the Fleetwood Building across the street from Fifth Third Field. Fleetwood's Tap Room features 48 beers on draft, a wide selection of whiskeys, an eclectic menu, and an outstanding outdoor patio that overlooks Hensville Park.
BirdCage Bar & Grill: birdcagebarandgrill.com | The BirdCage Bar and Grill is located on the Club Level at Fifth Third Field and provides incredible views of the on-field action! Your ticket to the Mud Hens game gives you entry to the BirdCage, where you and your guests will enjoy a great dining experience created by Chef Tony House, featuring a display of hand-carved meats, antipasti, classic salad, and seasonal entrees.
This story was not subject to the approval of the National Association of Professional Baseball Leagues or its clubs.