Here is a link to the original story on the team's website.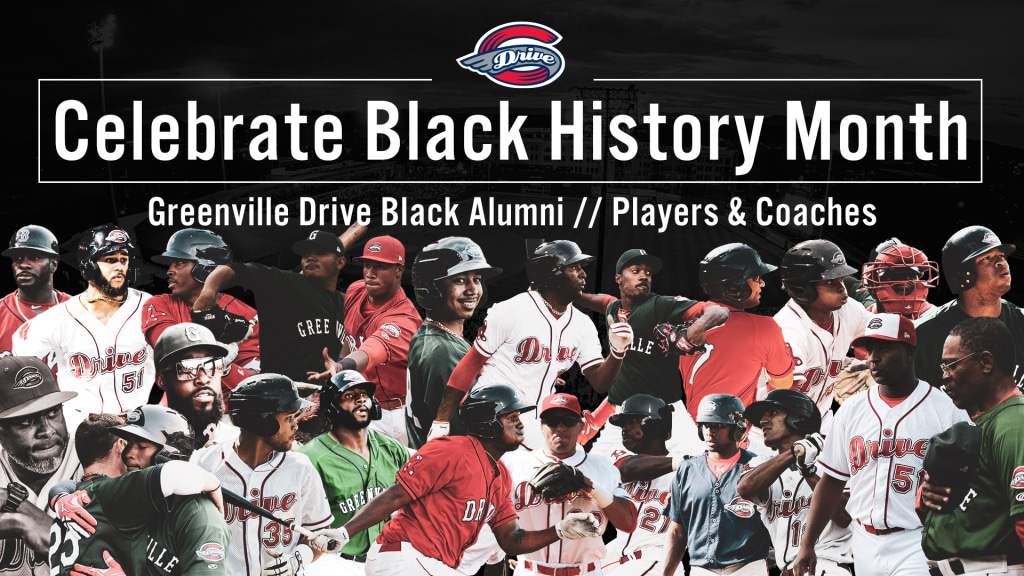 As part of Black History Month, and the Drive's participation in Minor League Baseball's new "The Nine" initiative, we'll be spotlighting all of our Black alumni during the month of February. Over the span of the Drive's 15 seasons, we've had 20 Black players, and 7 Black field staff members.
We'll be highlighting the players in alphabetical order, and concluding with the field staff. This write-up will be added to every week during the month of February, and will include additional photos of each player on Drive social media platforms – Facebook, Twitter, and Instagram.
Luke Bandy, Outfielder // 2021
Began the 2021 season with the Drive…appeared in 19 games (14 in centerfield and 5 in leftfield)…amassed a .972 fielding percentage…hit his first professional home run on May 18th, 2021 at the Asheville Tourists…drafted by the Red Sox in the 29th round of the 2019 MLB Draft…spent three seasons at Dallas Baptist University, where he earned First-Team All-MVC honors as a junior, also being named to the league's All-Defensive Team
Mookie Betts, Infielder // 2013
One of the Drive's most heralded alumni…appeared in 76 games with the Drive during the 2013 season, hitting .296 with 8 home runs, 63 runs, 26 RBI, 63 runs scored, 24 doubles, and 18 stolen bases before a July call-up to the Salem Red Sox…was named a mid-season South Atlantic League All-Star…made his MLB debut with the Boston Red Sox on June 29th, 2014 – becoming the 37th Greenville alum to reach the big leagues…in 2018, he became the first player in MLB history to win the MVP, Silver Slugger, Gold Glove, batting title, and World Series all in the same season…MLB accomplishments include a 5x All-Star (2016-2019, 2021), 2x World Series Champion (2018, 2020), 2020 MLB First Team (2020), All-MLB Second Team (2019), 4x Silver Slugger (2016, 2018-2020), 5x Gold Glove (2016-2020), Wilson Defensive Player of the Year (2016), and 30/30 Club (2018)
Jackie Bradley, Jr, Outfielder // 2011
Following a standout career at the University of South Carolina, where he was a two-time College World Series Champion (2010, 2011) and named the CWS Most Outstanding Player honors in 2010, was selected 40th overall by the Red Sox in the 2011 MLB Draft…appeared in 4 games with the Drive at the end of the 2011 season, all on the road – which means he's played more games at Fluor Field as a member of the Gamecocks than he did with the Drive…made his MLB debut on April 1st, 2013 for the Red Sox, becoming the 24th Drive alum to reach the big leagues…in 2016, amassed a 29-game hit streak tying Johnny Damon for the fourth longest in Red Sox franchise history…earned MLB's AL Player of the Month honors for May 2016…became a World Series Champion and won a Gold Glove in 2018…was named the American League Championship Series MVP in 2018
Ryan Dent, Infielder // 2009
Appeared in 99 games with the Drive in 2009, helping lead the team to the South Atlantic League's First-Half Southern Division Championship…tied a career-high with 6 homers while, tying for third on the club with 24 doubles…spent 8 seasons in the minors, reaching Triple-A with both the Red Sox (Pawtucket 2012 and 2013) and Cubs (Iowa in 2015) organizations…was a career .236 hitter, totaling 508 hits, 144 doubles, and 288 runs scored…spent the 2019 season with the independent York Revolution, where he was named a mid-season All-Star…originally selected by the Red Sox as the 32nd overall pick in the 2007 MLB Draft