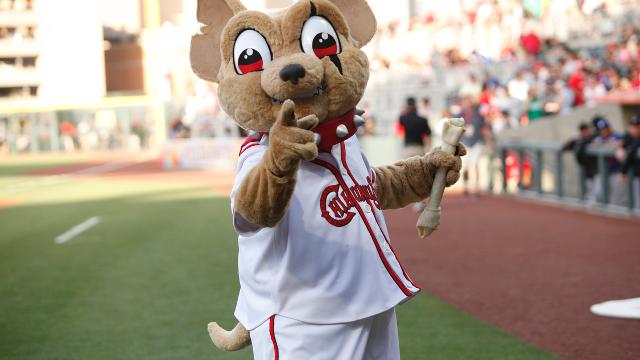 As Chico entertained the students at Dr. Green Elementary School's State of Texas Assessments of Academic Readiness (STAAR) Pep Rally, the Chihuahuas mascot recorded his 500th community appearance since he wandered onto the steps of Southwest University Park less than one year ago.
"_______________________________________," said Chico. "_____________________ _____________________________!"
The Chihuahuas debuted a silent Chico on their flagship radio station, Team 600 ESPN El Paso on April 14th, 2014. Since his introduction Chico has become the face of the Chihuahuas brand.
Chico's 500 appearances included school visits, military Welcome Home ceremonies, grand openings of businesses, parades and birthday parties to name a few.
Aside from baseball, Chico is an advocate of education having assisted in such programs as Read Across America, Red Ribbon Week, Anti-Bullying Week, STAAR Testing Rallies and more.
In February 2015, Chico was invited to represent El Paso in Austin, Texas for El Paso Days, a series of meetings between local leaders and state officials, becoming a true ambassador for the city.
"We are proud to hit this community milestone so quickly with our goodwill ambassador, Chico," said Chihuahuas General Manager Brad Taylor. "He is the one member of our team that will be here year after year while supporting all of the great groups in our region."
If you are interested in having Chico at your next event, go to www.epchihuhauas.com under the 'Community' tab and fill out the online 'Mascot Appearances Form.'
This article originally appeared on the official website of the El Paso. Click here to view the original story.