Here is a link to the original story on the team's website.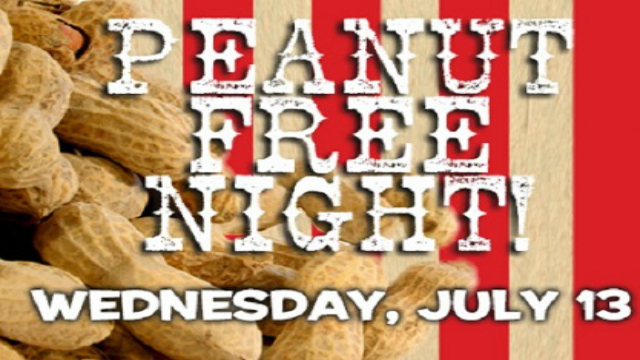 GENEVA, Ill. – The Kane County Cougars have announced that Wednesday, July 13 will be Peanut-Free Night when they host the West Michigan Whitecaps in a 6:30 p.m. game at Fifth Third Bank Ballpark. The game will not include the sale of peanuts or any peanut-related products to allow fans with peanut allergies the opportunity to safely attend a Cougars game.
Beginning in 2007, the Cougars have hosted their annual Peanut-Free Night for the last nine years for families of children with peanut allergies. Peanut allergies are one of the most common food allergies and can cause a severe and potentially fatal allergic reaction. In addition to peanuts, the following items will also not be available for fans to purchase on July 13: Dippin' Dots, Oberweis ice cream, Oreo churros, Cracker Jacks, candy including plain and peanut M&M's, as well as cookies and brownies.
Fans are asked to visit Guest Services located on the third base concourse with questions regarding the food and the ingredients they contain in relation to Peanut Free Night.
Tickets for Peanut-Free Night are available now by calling 630-232-8811 or by ordering online at www.kccougars.com.
Other promotions throughout the night include Half-Price Hump Day, presented by The GFS Store with specials on reserved and lawn tickets plus regular-size sodas, burgers, pizza, nachos, popcorn and select souvenirs as well as the opportunity for fans of all ages to run the bases after the game.
For updates throughout the season on ticket and promotions follow the Cougars on Facebook, Twitter and Instagram.
About the Kane County Cougars
The Cougars, Class-A Minor League affiliate of the Arizona Diamondbacks, have been at the forefront of family-friendly entertainment since 1991. In 2015, the franchise became the first Class-A team in Minor League Baseball history to welcome 11 million fans through the gates. A total of 144 former Cougars have reached the Major Leagues including Miguel Cabrera, Nelson Cruz, Josh Beckett, Adrian Gonzalez and Kyle Schwarber.
***
This story was not subject to the approval of the National Association of Professional Baseball Leagues or its clubs.