The Canadians and Bob Brown Bear were busy in our local community this past week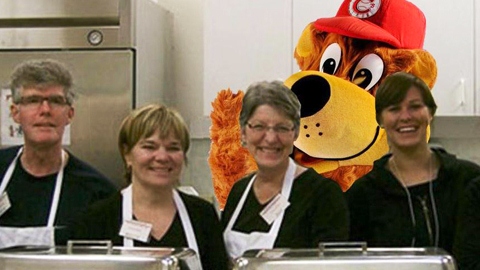 (Scotiabank Field at Nat Bailey Stadium – Vancouver, BC) – From diamonds to dining, it was another busy week for Vancouver Canadians mascot Bob Brown Bear who made stops at Mission Possible as well as registration day out at Trout Lake Little League.
Mission Possible was founded over 20 years ago and has become one of Canada's most respected street-level initiatives helping a number of local families in need with both compassion and a loving heart on Vancouver's Downtown Eastside.
Bob Brown Bear's presence at Mission Possible brought a number of smiles to young children's faces as they enjoyed a warm meal along with their families. The Vancouver Canadians wish to congratulate everyone associated with this effort for a job well done.
Our mascot was also happy to hand out high-fives and a few hugs out at the registration for Trout Lake Little League's upcoming season.
Since 1953, Trout lake Little League has been giving local children the opportunity to play organized baseball. With divisions for kids four through 12, Trout Lake Little League is based out of John Hendry Park (Vancouver) and is a league run completely by local volunteers.
The Canadians were proud to be out making new friends within the league and wish to thank the organizing committee for allowing us the chance to share in the excitement of the upcoming season.
Discovered in 2008, Bob Brown Bear has become one of the most recognizable faces on the Vancouver sports circuit making nearly 1,000 community appearances. If you would like to have the official mascot of the Vancouver Canadians at your upcoming event, feel free to contact us at 604.872.5232 to learn more about Bob Brown Bear's availability.
The Vancouver Canadians return to Scotiabank Field at Nat Bailey Stadium on Wednesday, June 20th to face the Tri-City Dust Devils in a re-match of last season's Northwest League Championship. Tickets to Vancouver Canadians Baseball are available by calling 604.872.5232, or by visiting the Vancouver Canadians Box Office located at 4601 Ontario Street, Vancouver, B.C.
This article originally appeared on the official website of the Vancouver Canadians. Click here to view the original story.