Here is a link to the original story on the team's website.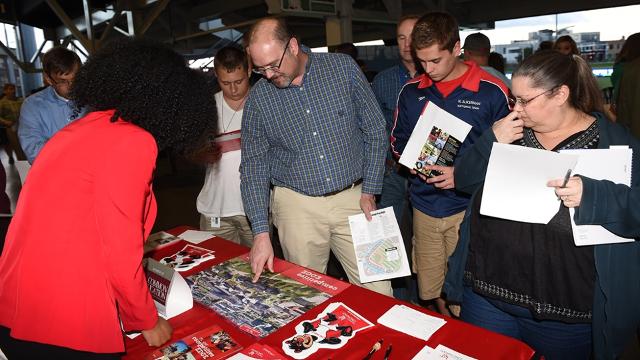 Dayton, Ohio – The Dayton Dragons and Fifth Third Bank will hold College Prep Night, a free educational event for prospective college students, at Fifth Third Field on Wednesday, September 27 from 6 p.m. – 8 p.m.
College Prep Night is a one-stop college resource event to guide incoming college students and their parents through the process of planning an educational path. High school students can talk to representatives from some of the region's top colleges, and two lucky students in attendance will win $1,667 college scholarships, courtesy of Fifth Third Bank.
More than 1,000 students and their guests attend and more than 60 colleges and universities participate in this free event. Among the colleges scheduled to appear are Ohio State University, Miami (Ohio) University, University of Notre Dame, University of Cincinnati, University of Dayton, University of Kentucky, Wright State University, and many more schools from around the region. Representatives will be on hand to answer whatever questions that students might have about college life at each particular school.
"College is an important milestone in life for those who choose to pursue it, and it's important to us at Fifth Third to help students and their parents prepare financially," said Doug Compton, Dayton city executive for Fifth Third Bank. "This is the tenth year for this great community event and it only seemed fitting to make the quantity and amount of scholarships a Fifth Third Better."
The $1,667 scholarships will be given away after the event to two lucky college-bound students. To be entered to win, parents or students must RSVP before the event at www.daytondragons.com/collegeprep and must attend the event, although they do not have to be present to win.
In addition to visiting with the different schools, students and parents can participate in dynamic, informative workshops that will tell them everything they need to know about college. In one of the informative seminars, Fifth Third Bank will educate attendees on the new Fifth Third Momentum™ app, which helps pay off student loans faster.
###
This story was not subject to the approval of the National Association of Professional Baseball Leagues or its clubs.