Kids and families in need to attend selected Monday games free of charge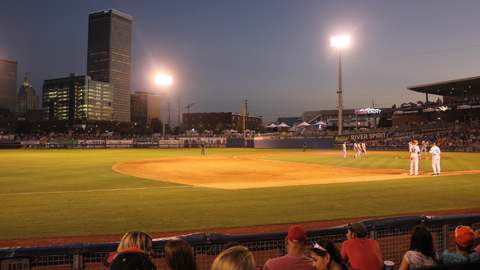 Monday evening games will take on a special meaning this season at ONEOK Field. The Tulsa Drillers Foundation has announced a partnership with McElroy Manufacturing that will feature a new program titled "McElroy Make-A-Difference Mondays."
The six Monday night games of the 2013 season will give Tulsa area children and families in need the opportunity to attend games at no cost. McElroy Manufacturing, through its partnership, will provide complimentary Drillers Dogs and soft drinks for all kids and parents that attend a Monday game as part of the program.
"We are excited to be able to offer this program," said Drillers General Manager Mike Melega. "Many of us grew up attending games with our parents and grandparents, and the memories can last a lifetime, yet we realize that there are many young fans that may never get the chance to attend a game at ONEOK Field. With the help of McElroy and other companies, we can now give these kids an opportunity to enjoy an evening out and a chance to experience downtown Tulsa and make memories of their own."
ONEOK, Tulsa Federal Credit Union and Clinical Profusion Systems have also joined the Tulsa Drillers Foundation in the Make-A-Difference program as ticket sponsors. Any company or individual interested in helping to underwrite tickets for those in need can contact Kara Biden with the Drillers at (918)744-5901.
This article originally appeared on the official website of the Tulsa Drillers. Click here to view the original story.