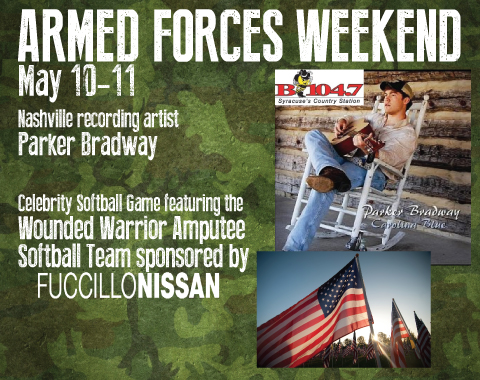 The Syracuse Chiefs, the Triple-A affiliate of the Washington Nationals, are pleased to announce activities for the Chiefs' Armed Forces Weekend. Events at NBT Bank Stadium will take place on Friday, May 10 and Saturday, May 11.
On Friday, May 10, the Chiefs will host a showcase concert from Nashville recording artist Parker Bradway in the Hank Sauer Room from 6:00 pm to 7:30 pm. The concert, sponsored by B104.7, will benefit the Wounded Warrior Amputee Softball Team. Special event tickets can be purchased for $20 each, good for admission to both the concert and the Chiefs' 7:00 pm game that evening vs. the Norfolk Tides.
Tickets for both game/concert, can be purchased on the ChiefsGroups.com website using the code: WARRIOR
On Saturday, May 11, the Chiefs will host the Wounded Warrior Amputee Softball Team (WWAST) to kick off an all-day Armed Forces celebration. At 10:30 am, the WWAST will take the field against a local celebrity team sponsored by Fuccillo Nissan. Admission to the softball game is free.
During the day on Saturday, military vehicles and equipment will be on display in the NBT Bank Stadium parking lot beginning at 12:00 noon. A pre-game, on-field ceremony will take place to honor military personnel before the the Chiefs' 2:00 pm game against the Tides.  Chiefs players and coaches will also wear specially designed "Stars & Stripes" jerseys and hats for the game.
Tickets for both games of Armed Forces Weekend, along with all other Chiefs home games, can be purchased online at  syracusechiefs.com  where fans can use the team's new ticketing system to select their seats online and print their tickets from home.  Tickets can also be purchased by calling  315-474-7833 or in person at the Chiefs ticket office.
This article originally appeared on the official website of the Syracuse Chiefs. Click here to view the original story.