Recent Heart Transplant Recipient to be Honored During Ceremonial First Pitch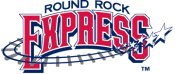 ROUND ROCK, Texas – The Round Rock Express is proud to announce they have partnered with the Texas Organ Sharing Alliance (TOSA) and St. David's Round Rock Medical Center to host "Donate Life Texas" Night on Opening Day, Thursday, April 4 at Dell Diamond, to promote awareness of the need for organ donors.
The non-profit organization will have a strong presence in the ballpark during Opening Day festivities, including manning a kiosk on the home plate concourse and taking part in a pre-game, on-field interview. Also, recent heart transplant recipient JR Box will be recognized and honored during the ceremonial first pitch. As he continues his recovery from surgery back in February, his wife Brooke Box, a former Round Rock Emergency Department nurse (and current Air-Evac flight nurse), will throw out the first pitch to honor JR's heart donor.
"We're proud to be able to use the platform of Express games to raise awareness for local non-profits all season long," said Tim Jackson, Express director of community relations. "We're delighted to host 'Donate Life Texas' Night on Opening Day this season, and we hope that our Express fans can help make a difference."
TOSA will be giving away reusable grocery bags, courtesy of St. David's Round Rock Medical Center, to the first 500 people who either sign up on the state registry at the game or show their driver's license with a DONOR heart in the lower right-hand corner.
The Texas Organ Sharing Alliance is one of 58 federally designated Organ Procurement Organizations (OPO) in the United States. Founded in 1975 as a not-for-profit corporation, TOSA covers 56 counties in Central and South Texas.  TOSA is committed to providing organ donation and recovery services to families wishing to donate, and to those waiting for a life-saving organ transplant. For more information, visit www.DonateLifeTexas.org.
Round Rock kicks off the regular season on Thursday, April 4 with an eight-game home stand that includes four-game series against Omaha (April 4-7) and Iowa (April 8-11). To reserve your Opening Day tickets and ticket plans, including full season, 20-game and flex plans, call the Express ticket office at (512) 255-2255 or visit www.RoundRockExpress.com. Keep up with the Express on Facebook and Twitter!
This article originally appeared on the official website of the Round Rock Express. Click here to view the original story.