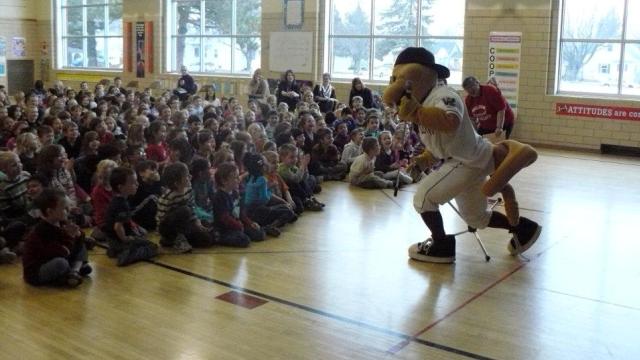 It is time for your school to help celebrate the 20th year of Fang's Reading Club presented by Learning Rx during the 2014-2015 school year! The mascot of the Wisconsin Timber Rattlers is ready to help kids from kindergarten through 5th grade get excited about reading!
Fang's Reading club started in 1996 and grew to 178 schools and over 44,000 students last year. There is plenty of room for more for this school year.
Teachers and reading coordinators have until November 21 to get involved in this popular Timber Rattlers program.
Personnel at the participating schools have the flexibility to design the program to meet the needs of their students. The Timber Rattlers, Learning Rx, Badger Sports Park, and the Wisconsin Milk Marketing Board will provide participating students with incentive prizes as they reach goals within the program. Students who meet all of their goals for the program are rewarded with a FREE ticket as part of their school's Family Night at a Timber Rattlers game in 2015.
Please head to Fang's Reading Club page at the Timber Rattlers website for full details, including a sample time line, dates for Reading Club games, and how your school can schedule a visit from Fang.
Contact Dayna Baitinger at dbaitinger@timberrattlers.com, (800) WI-TIMBER, or (920) 733-4152 if you have any questions or would like to register your class or school for the 2014-2015 school year.
This article originally appeared on the official website of the Wisconsin Timber Rattlers. Click here to view the original story.