Franchise announces community outreach program in time for holiday season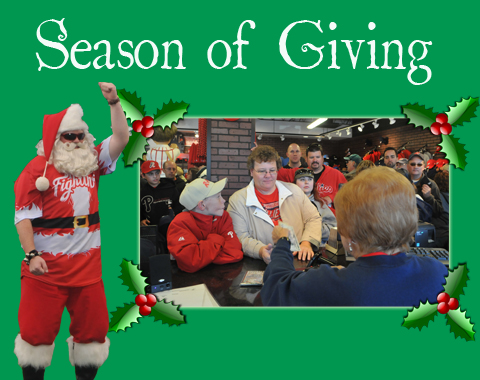 In cooperation with many of the non-profit and charitable organizations throughout the region, the Reading Fightin Phils are launching the 2013 Season of Giving in the Mitchell & Ness Fightins Team Store this holiday season.
Starting with the Toys for Tots collection on Sunday, November 3, the Fightin Phils will give back 20% of your purchase when you mention your participating organization at checkout during the Season of Giving. The proceeds raised through the Season of Giving will go directly to the organizations. Shoppers can support the community organizations until Christmas Eve on December 24.
"In the spirit of the holidays, we're bringing back the Season of Giving as a way to say thanks to the hard-working non-profit community," said Director of Community Relations Mike Robinson. "This is a way for us to spread some cheer towards local organizations while raising awareness for their efforts."
Once the Season of Giving begins, the team store's hours will expand to 10:00 a.m. to 5:00 p.m. on Monday through Friday and 10:00 a.m. to 2:00 p.m. on Saturday.
Organizations interested in taking part in the 2013 Season of Giving can reach out to Director of Community Relations Mike Robinson at mrobinson@fightins.com or Merchandising Manager Zack Haas at zhaas@fightins.com for additional information.
Fans will have the chance to support the first Season of Giving organization this Wednesday at the Charlie Adams Farewell Broadcast where team store purchases from 6:00 a.m. to 5:00 p.m. will aid the Exeter Public Library.
Season tickets, mini-plans, and group tickets for the 2014 season at FirstEnergy Stadium are available by visiting Fightins.com, calling the Fightin Phils Ticket Office at 610-370-BALL, or by visiting the Fightin Phils Ticket Office in person at FirstEnergy Stadium. Follow the Fightin Phils on Twitter at @ReadingFightins and like them on Facebook via www.facebook.com/fightins.
This article originally appeared on the official website of the Reading Fightin Phils. Click here to view the original story.