Here is a link to the original story on the team's website.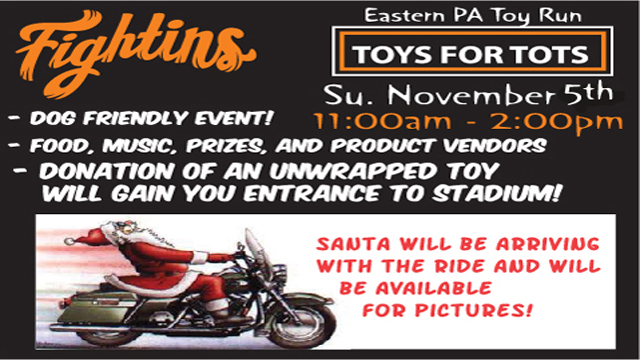 (Reading, PA) – FirstEnergy Stadium will welcome the 11th Annual Eastern PA Toy Run presented by Classic Harley-Davidson on Sunday, November 5th from 11:00 a.m. to 2:00 p.m. in the Tompkins VIST Bank Plaza at FirstEnergy Stadium.
Proceeds from the event will benefit the United States Marine Corps Reserve Toys for Tots Program and The Children's Home of Reading.   Folks will be admitted to the holiday event by presenting a new, unwrapped toy of any value or by making a monetary donation that will be used to purchase additional toys for children.
Motorcycle registration for the toy run will begin at 9:00 a.m. at Classic Harley-Davidson. Santa Claus will lead the ride as it departs from Classic Harley-Davidson on Route 183 at 11:00 a.m. and follows a 25-mile course until arriving at America's Classic Ballpark for an estimated noon arrival. All motorcycles, Jeeps, and classic cars are welcome to participate in the Eastern PA Toy Run with a donation of an unwrapped toy or game.

Upon his arrival at noon, Santa will be on hand until 2:00 p.m. for photos with those on both the naughty and the nice list. There will also be live music on the Hardball Cider Performance Stage throughout the afternoon.
The Eastern PA Toy Run began in 2007 after the Berks County Toys for Tots motorcycle run was potentially cancelled after the Marine Corps Reserve Unit was deployed. Multiple motorcycle runs combined and teamed with the Fightin Phils in order to continue benefiting Toys for Tots in Berks and Lebanon County and The Children's Home of Reading.
The Steve Moyer Subaru Fightin Phils Team Store will also be open with special holiday sale pricing, so fans can pick up discounted gifts for the holidays. There will be steep discounts of up to 50% for one day only. Those attending will be able to check out FirstEnergy Stadium signage and player line-up cards available for purchase. Fans can own a piece of FirstEnergy Stadium history!
America's Classic Ballpark is proud to be a part of Pennsylvania's Americana Region. Season tickets for the 2018 season are available online at Fightins.com, by phone at 610-370-BALL, and in-person at FirstEnergy Stadium. Follow the Fightin Phils on Twitter at @ReadingFightins and like them on Facebook via www.facebook.com/fightins.
This story was not subject to the approval of the National Association of Professional Baseball Leagues or its clubs.