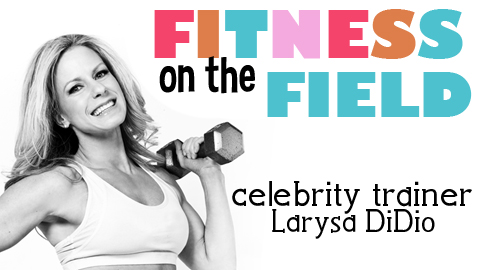 (FISHKILL, NY) – The Hudson Valley Renegades will partner with celebrity personal trainer and fitness author Larysa DiDio on Sunday, August 26 to promote the health and well-being of families throughout the Hudson Valley. DiDio will conduct a 30-minute group "feel good" workout for moms, dads and families on the field following the 1 P.M. game at Dutchess Stadium.
"It was a natural partnership," said Didio. "Baseball provides the perfect medium for helping families and kids get healthier, together." During the post-game workout, the Renegades will also conduct an on-field kickball game led by Renegades mascot, Rascal.
"The Renegades are excited to partner with Larysa on this event," expressed Renegades General Manager Eben Yager. "As a family driven organization, we understand the importance of health, fitness and family involvement and believe this a great opportunity to continue fitness education in the ballpark."
DiDio will be available for a book signing as well as answering fans' questions on fitness, diet and family. Book signing and meet and greet will begin at 12 P.M. and continuing throughout the game. DiDio will also take over the Renegades Facebook page on Monday, August 20 from 10 A.M. to 2 P.M to expand fitness and health education.
"Fitness on the Field" will take place Sunday, August 26 as the Hudson Valley Renegades take on the Lowell Spinners at Dutchess Stadium. The first 1,000 kids will receive a Renegades backpack courtesy of New York 529 and K104.
Tickets are available by calling the Hudson Valley Renegades Ticket Office at 845-838-0094 or at hvrenegades.com.
–RENEGADES–
ABOUT LARYSA Larysa DiDio is a celebrity personal trainer and fitness author who inspires everyone to "Rock What They've Got!" Her fast, fun and efficient workouts with easy-to-follow nutrition advice have helped celebrities, Olympians, professional athletes as well as moms, dads and kids attain their health and fitness goals. She's the author of Sneaky Fitness: How To Sneak Fitness Into Your Kids Everyday, fitness expert for SELF, FITNESS and Women's Health magazines, was contributing editor for Parenting magazine and health ambassador for the government's campaign to get kids fit, Best Bones Forever. Larysa has been featured in over 40 national magazines and TV showswww.larysadidio.com.
This article originally appeared on the official website of the Hudson Valley Renegades. Click here to view the original story.