Drive Manager Darren Fenster leads the clinic from 6:00-8:30 PM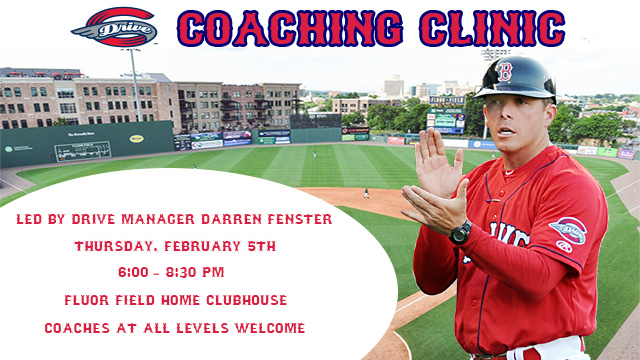 The Greenville Drive have announced they will hold a complimentary coaching clinic led by Drive Manager Darren Fenster on Thursday, February 5th from 6:00-8:30 PM in the home clubhouse at Fluor Field.
The clinic is available for coaches at all levels of baseball, including little league, middle and high school, and travel baseball.
Fenster will cover a wide array of topics during the interactive forum, ranging from individual skills such as hitting, throwing, and fielding to team fundamentals such as cutoffs, relays and rundowns. Fenster will provide insight on a general approach to coaching, while also touching on practice organization and how to keep players engaged while getting the most out of their time on the field.
Additionally, those in attendance will have the unique opportunity to experience exactly how the Drive coaching staff employs this approach to their daily work during the 2015 season.
"With the amazing support that the Greenville and entire Upstate communities give us throughout the course of the season, I wanted to find a creative way to give back to the very people who make our days at Fluor Field so rewarding," said Fenster. "I couldn't think of a better way to do so than by putting together a coaching clinic that will benefit the next generation of players through this generation of coaches.
"Baseball has given me a platform as a coach that I truly value, and I take a great sense of responsibility to share my passion for and knowledge of the game with as many others who want to listen. To do this in the place I've called home for parts of the past few years is a special opportunity."
Fenster has accumulated a wealth of experience during his time as a player and coach at both the college and professional levels. He was a two-time All-American shortstop at Rutgers University before spending five seasons in the Kansas City Royals system from 2000-2004, and he received an invite to major league spring training during his time with the Royals.
Following his playing career, Fenster returned to his alma mater and spent six seasons on the staff of the Scarlet Knights, serving under legendary coach Fred Hill, who earlier this month was inducted into the American Baseball Coaches Association Hall of Fame. He also spent a season as an assistant coach for the Orleans Cardinals in the Cape Cod League in 2008.
In 2013, Fenster created Coaching Your Kids, an initiative that shares his love and understanding of the game to the baseball community of coaches, players, and fans in general through camps and clinics in addition to media forums such as Twitter (@CoachYourKids), print magazines, and online blogs and podcasts.
He joined the professional coaching ranks in 2012 as the Drive's hitting coach before getting his first managing opportunity with the Gulf Coast League Red Sox in 2013, leading the club to the league championship series. The 2015 season will be Fenster's second piloting the Drive.
"We are thrilled to give back to the local coaching community with this clinic at Fluor Field," said Drive General Manager Eric Jarinko. "Darren Fenster is a terrific coach as well as being an outstanding person, and his passion for the game and his ability to connect with players of all ages and ability levels are second to none. He truly is a great ambassador for both the Greenville Drive and the game of baseball, and we couldn't be happier to have him on board for this coaching clinic and the 2015 season at Fluor Field."
The clinic is complimentary, but registration is required as space is limited. Coaches interested in registering for the clinic can do so by clicking here.
For additional info, please contact Cameron White, the Drive's Media Relations Manager, at cameron@greenvilledrive.com.
This article originally appeared on the official website of the Greenville Drive. Click here to view the original story.