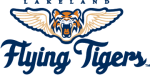 The Lakeland Flying Tigers Pink in the Park Night on May 1 at Joker Marchant Stadium helped the Mary Kay Foundation raise over $12,000 for the inaugural event. The Mary Kay Foundation proudly supports research dedicated to finding cures for cancers that affect women and programs committed to ending domestic violence.

Flying Tiger players and coaches wore pink jerseys during the game and fans had the opportunity to take the jersey off the back of their favorite player after the game. Autographed Detroit Tiger pink bats were auctioned off during the game.
There was a pre-game cancer survivor parade as well as a pink Cadillac parade on the field. Bases were painted pink as well. Even the post-game fireworks show had bursts of pink. The inaugural event was a great success helping raise awareness and funds for the Mary Kay Foundation.