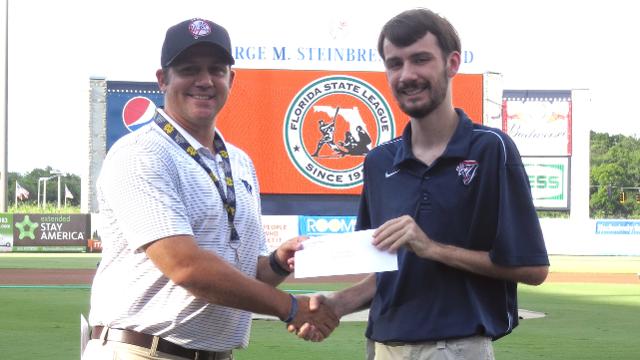 The Tampa Yankees, in conjunction with the Florida State League and the Miami Marlins, are pleased to announce Austin Kaufman as their 2014 scholarship award winner. The Florida State League Scholarship committee award 12 individuals with educational scholarships. The committee approved the awards after a review of the applications submitted by all the Florida State League teams.
Austin Kaufman is a graduate of Robinson High School. He is currently attending the University of South Florida – St. Pete Campus before he plans to transfer to the University of South Florida – Tampa Campus. Austin plans to get his degree in Computer Science and Engineering. Austin is the son of Stadium Manager, Ron Kaufman who has been with the organization for 16 years.
Austin will be honored at the Tampa Yankees home game on August 7th, versus the Brevard County Manatees at George M. Steinbrenner Field. In addition, he was introduced during a pre-game ceremony at the Miami Marlins game on Sunday, August 3rd along with the other Florida State League teams' award winners.
The Miami Marlins/Florida State League scholarship program is awarded to students that are an employee of, or the child or grandchild of an employee of the participating club and must be at least a high school junior by the 2014 fall term. The Miami Marlins have sponsored this program for fifteen years and have contributed over $137,000 to the Florida State Program.
The Tampa Yankees are the Single-A Advanced affiliate of the New York Yankees. For more information on the Tampa Yankees visit www.tybaseball.com or call (813) 673-3055.
This article originally appeared on the official website of the Tampa Yankees. Click here to view the original story.