Here is a link to the original story on the team's website.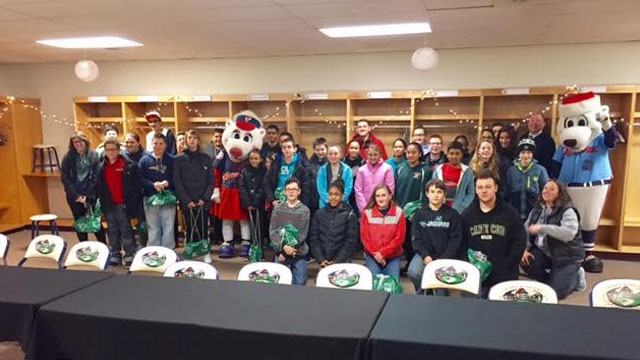 Christmas came early for a group of Pawtucket middle schoolers, who enjoyed a Holiday Luncheon, presents, and a VIP Tour of McCoy Stadium today, courtesy of the PawSox. The children–in 6th, 7th, and 8th grade at Lyman B. Goff Middle School–also met mascots Paws and Sox, and engaged in a spirited discussion with PawSox President Dr. Charles Steinberg.
"To paraphrase an ancient saying, 'From our students, we learn the most of all,'" Steinberg said. "They brought us up to date about the virtues of Snapchat, Instagram, and video games, while we sought to bring them up to date about the virtues of grass and dirt, balls and bats, and sun and sky. It was mutually beneficial."
"When these students found out they'd be spending a day at McCoy Stadium, they were simply in awe," said Lisa Bendetti-Ramzi, Principal of Goff Middle School. "For them to be able to go behind the scenes and learn about the history of the Pawtucket Red Sox was truly special."
The PawSox hosted a Thanksgiving luncheon for elementary school students in November, and followed it up with a Christmastime luncheon for middle school students today.
This story was not subject to the approval of the National Association of Professional Baseball Leagues or its clubs.