2014 honorees are Hayne and Anna Kate Hipp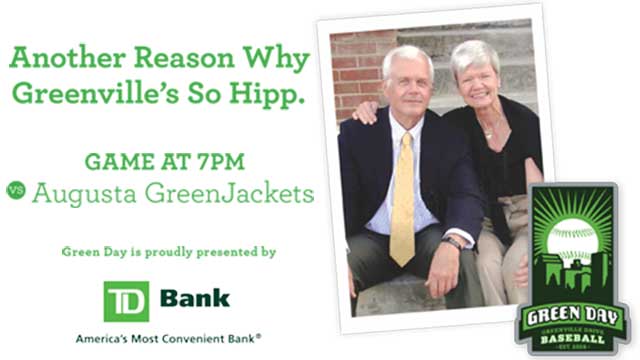 The Drive's annual Green Day to celebrate the birthday of the City of Greenville is set for Tuesday, August 5th. The Drive also take each Green Day to recognize a member of the Greenville community who has been instrumental in changing Greenville for the better.
This year's honorees are Hayne and Anna Kate Hipp, who's passion for civic development was instrumental in bringing the Peace Center, Falls Park and the Liberty Bridge to fruition, and the Liberty Fellowship for emerging leaders is their legacy for the future of the Upstate and all of South Carolina.
To help celebrate the City of Greenville's 183rd birthday, Fluor Field will be green all over for the 7:05 game, with green balloons on the concourse and green beer at the concession stands! Drive players will wear green jerseys and hats for the game, and the first 3,000 fans through the gates will receive a Green Day t-shirt as the Drive attempt to "green out" Fluor Field!
A special birthday celebration package is also available for Green Day, which features four tickets, four commemorative t-shirts, and four "build your own" ice cream sundaes for just $30!
The birthday celebration will be capped off with a spectacular postgame fireworks show! In addition, the band Butcher and the Baker will return to Fluor Field for the second time this season, playing all of your favorite current hits in the Southern Tide 500 Club.
This article originally appeared on the official website of the Greenville Drive1. Click here to view the original story.