Here is a link to the original story on the team's website.
After the 2020 Minor League season was officially canceled, the Greenville Drive began marketing themselves as their community's "ideal social distancing venue." The team's home of Fluor Field has since played host to a diverse array of events. Nearly all areas of the ballpark, from the luxury suites to the picnic area to the concourse to the field, have been made available for use.
On Saturday, Sept. 22, the Drive hosted their most civic-minded event of the year. As part of South Carolina's state-wide "Day of Action," Fluor Field served as a one-stop location for a smorgasbord of government-provided services. The menu, such as it was, included voter registration, census completion, COVID-19 testing, flu vaccinations, and the opportunity to procure REAL ID drivers licenses and identification cards from the DMV. Additionally the Drive partnered with one of their sponsors, the Blood Connection, to host a ballpark blood drive.
Each of South Carolina's 25 counties staged a Day of Action. The majority took place at schools, churches and community centers. Fluor Field, representing Greenville County, was the only professional sports venue to serve as a host site.
"It was a one-stop shop for all these different things," said Drive general manager Eric Jarinko. "We opened our gates to five different organizations, all of whom brought their own employees or volunteers. It was perfect for people to go out and do all that they needed to do in one spot."
The Drive, the Class A affiliate of the Boston Red Sox, were asked to accommodate the event due to their previous interest in using Fluor Field as a polling site.
"We're now seeing NBA arenas, a few NFL stadiums and a couple Major League ballparks all being used for that purpose," said Jarinko. "We were thinking about the importance of voting, now more than ever. And at the same time, with COVID going on, this is a perfect venue. It's outdoors and we can really space people out. … Unfortunately, even though we were still more than two months out, there just wasn't enough time to get everything squared away. Just in terms of all the people you have to communicate with, that your polling location isn't this elementary school or this church. Now it's the ballpark. We thought it was a great idea, but the immediate impact of people going to a new place just didn't seem doable.
"But that led to us being asked to be the Greenville County location for the South Carolina Day of Action," he continued. "The Day of Action was spearheaded by the lieutenant governor [Pamela Evette]. She's been to the ballpark many times for our Military Appreciation nights, among other things. Anything we can do to be part something like this, we're for it. We think the ballpark should be part of the fabric of the community. [Fluor Field] is privately owned, but when it comes to things like that, we want to operate as a public service like if it was the city that owned it."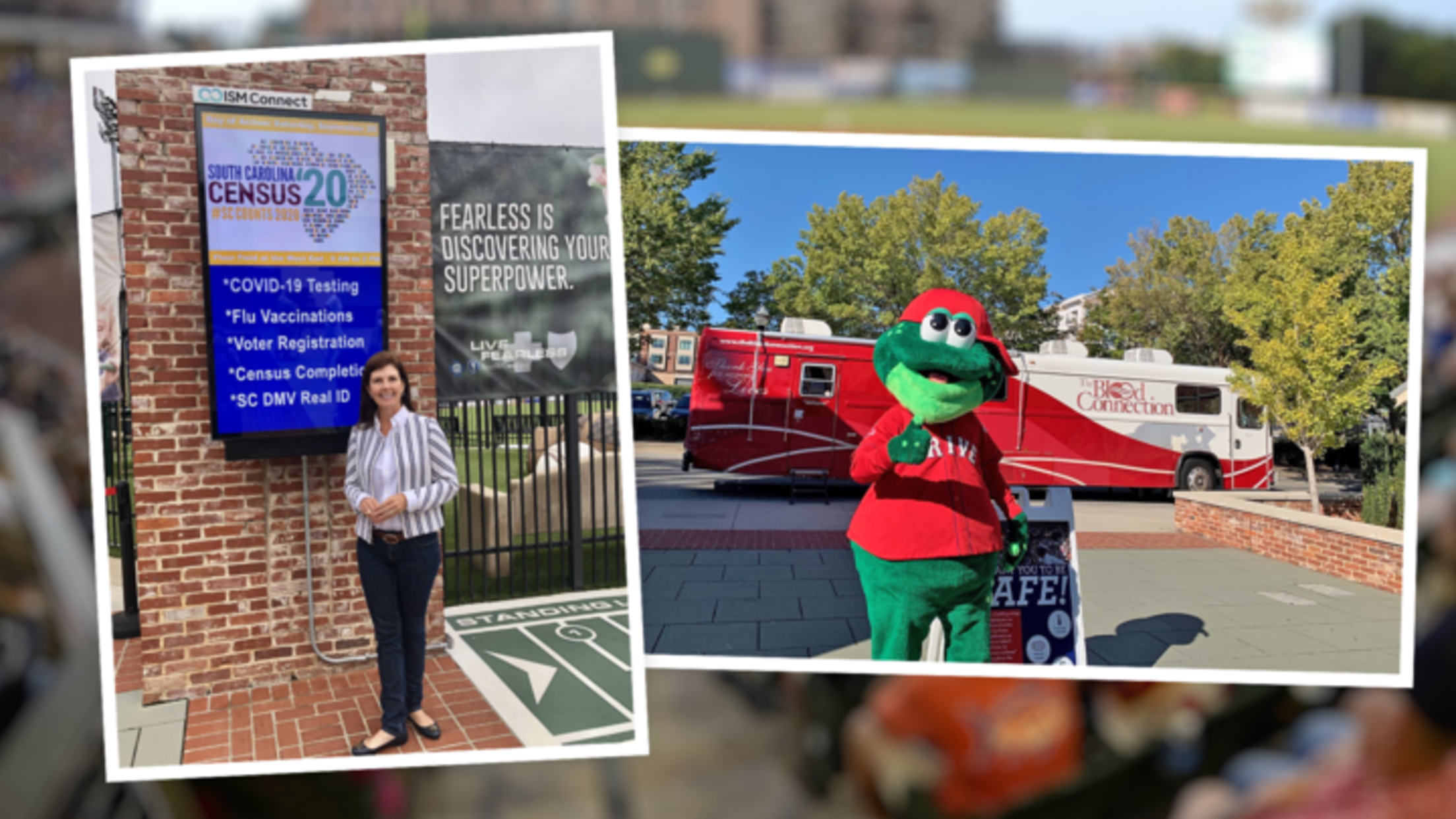 State lieutenant governor Pamela Evette and Drive mascot Reedy Rip'It took part in Fluor Field's Day of Action.
Fluor Field's spaciousness has proven to be a big part of its event hosting appeal. The facility, which has the same dimensions as Fenway Park as well as its own Green Monster-style outfield wall, features a wide concourse that extends roughly from foul pole to foul pole.
"Obviously, with everything going on with COVID, we had to have an entry and exit plan for everyone," said Jarinko. "We used the Main Street gate as a check-in location, checking people's temps as they came in. The COVID testing station was just outside the gates. I don't recall anyone going for COVID testing and then wanting to come in for other things. There was a temperature check at the gate. Everyone was in masks, and everything was spaced out on the concourse. Fans came in through third base and then went to whatever stations that they were there for and then exited other way. So we were able to maintain 6 feet of distance easily. The event went from 9 a.m. until 2 p.m., so were able to utilize our sound system and get 'College GameDay' on the videoboard."
The Drive promoted Greenville County's Day of Action via their social media channels, with local and state government spreading the word as well. Jarinko estimated approximately 500 people attended the event, which was fairly easy to oversee from the perspective of the team's front-office staff.
"A lot of our staff had been busy with other events, so I said it was more important for them to come in if they needed to get any of that stuff done," said Jarinko. "Honestly, I hadn't got my REAL ID yet. I helped the DMV set up and then had them knock out mine before we opened up the gates. It was all pretty turnkey. I was there at 8, setting up tables. The volunteers arrived at 8:30, then we were ready to go at 9."
From a larger perspective, the Drive's participation in South Carolina's Day of Action illustrates how Minor League ballparks can be utilized as spaces that support public health and foster the democratic process.
"Since day one, we've wanted people to understand that the Drive and Fluor Field stood for more than Minor League Baseball," said Jarinko. "We've been creative with how we use the ballpark, and moving forward, we want to do more things like this."