HOOAH, Inc. receives $1,000 "Red, White and Blue" themed grant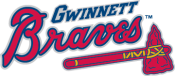 The Gwinnett Braves have announced the recipient of their $1,000 grant for the month of July. HOOAH, Inc. has been awarded July's "Red, White and Blue" themed grant, aimed at assisting organizations that support military and military families.
HOOAH, Inc. began with a group of friends trying to do something for servicemen and women around the world. On
May 18, 2011, the chapter became an official non-profit organization in the state of Minnesota. The organization is not bound to one geographical area, as its outreach is worldwide.
The goal of HOOAH, Inc. is to lend support to deployed special operations servicemen and women. The Georgia chapter of HOOAH will use the grant to fund youth sports scholarships for children who have one or more parents that are currently deployed. The scholarships help those families cover the cost of program fees and uniforms for their youth athletes.
"We are honored that the Gwinnett Braves have selected our organization to be the recipient of this charitable donation," said Bill Winans, Vice President of the National Board of Directors for HOOAH, Inc. "HOOAH is dedicated to increasing the quality of life of service members and their families through the various services we can provide to them. This donation is designated to provide funds to a youth sports related team whose youth member(s) is currently experiencing or has been affected through the sacrifice of a deployed parent. We thank you for trusting us with the charge of making that appropriation through our affiliation within the military community. The $1,000 grant will go a long way towards making participation a reality, or perhaps by providing first rate sponsorship shirts and ball caps for the chosen team(s)."
About HOOAH, Inc.: The organization has been around for over three years and is based in Elk River, Minnesota. There are five supporting chapters, located in Minnesota, Georgia, Colorado, Kansas and Wisconsin. The vision of the organization is to give volunteers and the public an opportunity to help our servicemen and women with customized support and services.
For more information on the Gwinnett Braves Grant Program, including details on how your organization can apply, call Community Relations Trainee Alison Atkins at 678-277-0313 or email Alison.Atkins@braves.com.
This article originally appeared on the official website of the Gwinnett Braves. Click here to view the original story.