Trio of ex-Spinners join together to support home state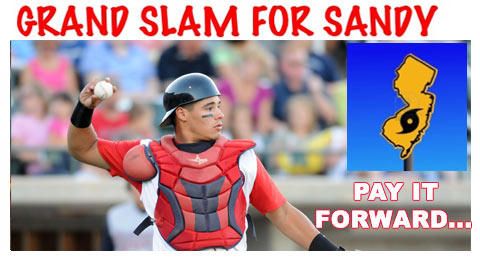 Former Spinner Jayson Hernandez is spearheading an effort among Red Sox minor leaguers to raise funds for Sandy relief in his home state of New Jersey. How can you help? It's simple. Follow the link and read more about the efforts to make a donation today!
A catcher for the Spinners in 2010 and 2011, Hernandez spent his 2012 season playing with the Portland Sea Dogs. During his time with the Spinners, the outgoing and popular Hernandez was a staple at Spinners' camps and community appearances, often catching ceremonial pitches on his day off or spending time signing autographs for fans.
"Baseball is full of good guys and Jayson is one of the best," said Spinners Director of Media Relations Jon Boswell. "It comes as no surprise that he is behind the efforts to support his New Jersey neighbors and peers in the wake of Superstorm Sandy."
In an effort that originated with Hernandez on Twitter (@Jays0n_Hernan), fellow Red Sox farm hands and Jersey natives Anthony Ranaudo (@anthony_ranaudo) and Pat Light (@Pat_Light) joined on, offering donations for Re-Tweets of the message with #GrandSlamforSandy.
Fans looking for more information can click HERE!
This article originally appeared on the official website of the Lowell Spinners. Click here to view the original story.