Jay Johnston, Jim Dowd, Stephen Baker, Bruce Harper among participants; event benefits military-based non-profit organization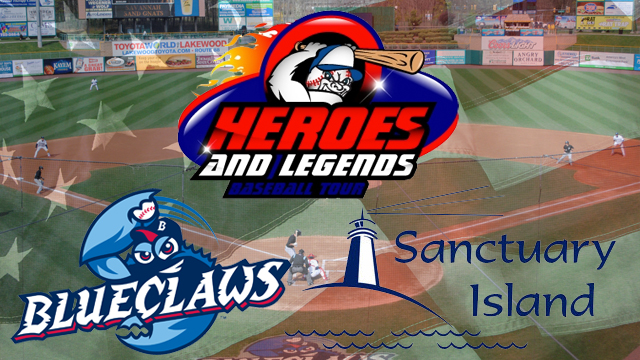 The BlueClaws will host a Heroes & Legends Charity Softball Game at FirstEnergy Park on Friday, October 10th.
Heroes and Legends is an organization dedicated to supporting veterans rehabilitative sports programs while assisting a wide network of military-based charities.

Among the participating former athletes:
Jay Johnstone – Former Phillie, Dodger & Yankee and two-time World Series Champion
John "The Count" Montefusco– Former SF Giant & NY Yankee who was the NL Rookie of the Year in 1975 and threw a no-hitter in 1976
Stephen Baker "The Touchdown Maker" – Former NY Giant Super Bowl XXV Champ
Jim Dowd – Former NJ Devil and 1995 Stanley Cup Champion
Bruce Harper – Former NY Jet running back
Keith Elias – Former Princeton and NY Giant running back
Jeff Frazier – Former Detroit Tiger and Toms River Little League Hero
Johnny Petraglia – PBA Bowler Member of Pro Bowling Hall of Fame
Parker Bohn – PBA Bowler Member of Pro Bowling Hall of Fame
Todd Frazier of the Cincinnati Reds, and a member of the 1998 Toms River East Little League World Series Championship team, and Frankie Edgar, Toms River native and former UFC Champion, will also make appearances at the event.
TICKETS: Tickets for the event are $10 for adults, $5 for children (kids under 5 are free), and $5 for enlisted or active military. Tickets are on sale now by calling 732-901-7000 option 2 or online by clicking here.
There will be a Home Run Derby beginning at 5:30 pm and the softball game itself will begin at 7:00 pm.
The program is dedicated to supporting veterans rehabilitative sports programs and charities honoring our Heroes past and present.
The Heroes Team is The Purple Heart Heroes All Star Team all of whom have been awarded the Purple Heart for their meritorious service.

Proceeds from this event will benefit Sanctuary Island, a non-profit organization that serves Wounded Warriors and other disabled to enhance health, literacy, life experience, and self esteem.
The BlueClaws are the Jersey Shore's top stop for affordable, family entertainment. They have led the South Atlantic League and New Jersey in attendance in all 13 years of existence.
This article originally appeared on the official website of the Lakewood BlueClaws. Click here to view the original story.