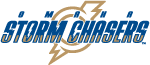 The Omaha Storm Chasers awarded fourth-grader Gracie Davis this year's Hit the Books contest winner, in a ceremony at Anderson Grove Elementary Wednesday. Davis was selected by the Storm Chasers community relations staff based on her original bookmark design.
"It was extremely difficult to choose a winner this year with so many great entries," said Andrea Stava, the club's Community Relations Manager. "The Omaha metro area has many talented students and we looked at thousands of great submissions. We're excited to finally announce a winner."
Hit the Books, the Storm Chasers' literacy program presented by Nebraska Educational Savings Trust (NEST), has a membership of approximately 15,000 students and 1,000 teachers at 50 Omaha-area schools. Students were asked to submit original drawings for this year's bookmark, which feature the artwork Gracie submitted this January. Bookmarks will be distributed throughout the city to each student who reaches their initial reading benchmark.
Students will have an opportunity to earn the bookmark, a pencil, a ticket to a Storm Chasers game and a prize pack for completing the program. Davis was presented with a Storm Chasers t-shirt, miniature baseball bat, Storm Chasers logo ball and various other items with the full prize pack at Wednesday's event.