Just Drive, an initiative by the Greenville Drive and several community partners to curb teen texting and driving, launched Jan. 22.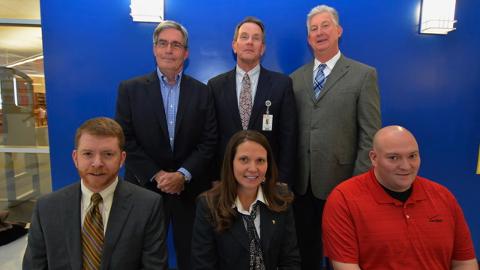 Greenville, SC – The Greenville Drive has renewed its commitment to making Greenville County's roads safer by educating teens about the dangers of texting and driving. The Drive – along with community partners Michelin, N.A., Verizon Wireless and Bradshaw Automotive – have launched the Just Drive campaign for the second straight year to encourage students at all Greenville County high schools to sign the pledge to not text and drive.
"We are thrilled to bring back our Just Drive campaign for the 2014 season," said Drive President and Co-Owner Craig Brown. "Automobile accidents are the number one killer of teenagers across the United States, and the Drive wants to continue to encourage teenagers to focus solely on driving when they are behind the wheel. We are excited to work once again with the Greenville School District and our Just Drive sponsors to bring awareness to the Just Drive campaign."
The 2014 Just Drive campaign was announced at a press conference on Wednesday at Eastside High School, where the Drive unveiled several upcoming activities to engage students. The press conference featured representatives from the Greenville Drive, Michelin, N.A., Verizon Wireless, Bradshaw Automotive and the principal and student from Eastside. Special guests included representatives from Greenville County Schools, the City of Greenville, the City of Greenville Youth Commission and students from Eastside High School.
The press conference highlighted the Drive's primary objectives for the Just Drive campaign, including the announcement that students will participate in a creative challenge to design a t-shirt logo for the campaign. In addition, the Drive announced plans for an invitational baseball game at Fluor Field and a Celebration Game during the Drive's upcoming 2014 season, both of which will be open to students who have made the pledge.
"A person who texts behind the wheel is 23 times more likely to be involved in a collision than someone who chooses to maintain their full attention on the road," said Leesa Owens of Michelin, citing a study by the Virginia Tech Transportation Institute. "Michelin is glad to support the Greenville Drive in spreading this important message."
"No text or email is worth the distraction behind the wheel," said Jerry Fountain, Verizon's President of the Carolinas/Tennessee Region. "Verizon is committed to partnering with community organizations that share our goal of ending distracted driving. We all have a responsibility to keep our roads safe."
"We encourage students, and drivers of all ages, to please pull off the roadway in a safe location if you must send or respond to a text or place a voice call when you are behind the wheel," said Wes Bradshaw, General Manager of Bradshaw Chevrolet, Buick, GMC and Cadillac of Greer.
Greenville Drive employees are teaming with volunteers from Verizon Wireless to speak to students during school lunch hours about the dangers of distracted driving, and to encourage them to avoid texting, talking on the phone, eating and other distracted behaviors that pulls attention away from safe driving. Students will be asked to sign a pledge as a promise to the community to not text while driving.
"The Just Drive campaign spreads a powerful message to our students about the responsibilities they have while behind the wheel," said Oby Lyles, spokesperson for Greenville County Schools. "The Greenville Drive has assembled a terrific team of community advocates to connect and engage new drivers in this very important initiative."
To sign the pledge to Just Drive, please visit facebook.com/justdrivepledge.
About The Drive
The Greenville Drive, the South Atlantic League affiliate of the 2013 World Series Champion Boston Red Sox, just completed its 8th season at award-winning Fluor Field, located in Downtown Greenville. Since 2006, more than 400,000 fans a year have been welcomed to Fluor Field for both Drive games and additional community events. The Drive has received numerous awards, including Ballpark of the year in its Inaugural 2006 Season, the National Sports Forums Overall Award for Excellence for Sports Marketing in 2010 and 2011 and the prestigious Freitas Award in 2012, presented by Baseball Americaand given to an organization which exemplifies excellence in operations, franchise stability and community engagement. 31 Drive alumni have gone onto play at the Major League level, including Clay Buchholz, Xander Bogaerts, Brandon Workman, and Will Middlebrooks.
About Michelin, N.A.
Dedicated to the improvement of sustainable mobility, Michelin designs, manufactures and sells tires for every type of vehicle, including airplanes, automobiles, bicycles, earthmovers, farm equipment, heavy-duty trucks, motorcycles and the space shuttle. The company also publishes travel guides, hotel and restaurant guides, maps and road atlases. Headquartered in Greenville, S.C., Michelin North America (www.michelin-us.com) employs more than 22,300 and operates 19 major manufacturing plants in 17 locations.
About Verizon Wireless
Verizon Wireless operates the nation's largest and most reliable 4G LTE and 3G networks. The company serves 101.2 million retail customers, including 95.2 million retail postpaid customers. Headquartered in Basking Ridge, N.J., with nearly 72,000 employees nationwide, Verizon Wireless is a joint venture of Verizon Communications (NYSE, NASDAQ: VZ) and Vodafone (LSE, NASDAQ: VOD). For more information, visit www.verizonwireless.com. For the latest news and updates about Verizon Wireless, visit our News Center at http://news.verizonwireless.com or follow us on Twitter at http://twitter.com/VZWNews.
About Bradshaw Automotive Group
Bradshaw Automotive began in 1979, when William Bradshaw and his wife, Annette, purchased a small Oldsmobile/Cadillac Dealership in Greer, South Carolina. While the organization has grown considerably, it is still a family-run operation. William is active in the day-to-day operations of all of the dealerships and is now aided by his son, Wes Bradshaw, and his son-in-law, Bill Donovan. The growth and success of Bradshaw Automotive can best be explained by William's philosophy of treating employees and customers like family, and always respecting their needs.
This article originally appeared on the official website of the Greenville Drive. Click here to view the original story.