Here is a link to the original story on the team's website.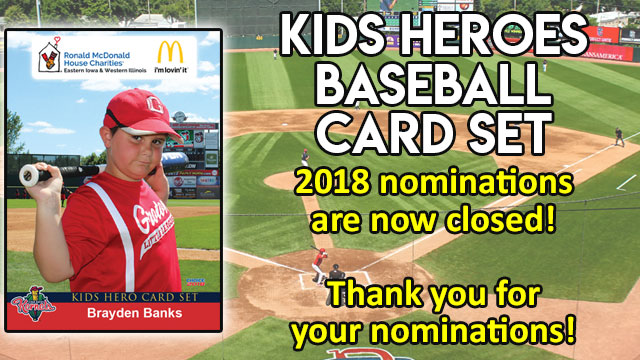 Cedar Rapids, IA – The Kernels are proud to announce that we have collected all the nominations for the 2018 Kids Heroes Baseball card set and nominations for this year's card set are now closed. Thank you to everyone who submitted a hero for this year's set!
We still encourage all fans to attend our Kids Heroes Night on Friday, June 15th at 6:35 PM as the first 1,000 fans through the gates will receive a free set of Ronald McDonald House Kids Heroes Baseball Cards, sponsored by McDonalds. Gates open at 5:30 PM.
With the strong interest in our first Kids Heroes Baseball Cards sets, the Kernels plan to continue this annual tradition by releasing a second Kids Heroes Set for the 2019 season. Nominations for this set will open in mid-January of 2019.