Fans Who Bring in a New Toy will Receive 2014 Keys Tickets and Hats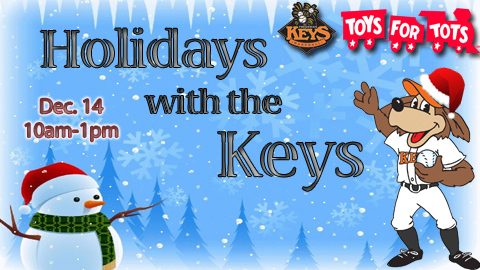 With the holiday season upon us, the Frederick Keys have announced a partnership with Toys for Tots for a second consecutive season. The mission of the U.S. Marine Corps Reserve Toys for Tots Program is to collect new, unwrapped toys during October, November and December each year, and distribute those toys as Christmas gifts to less fortunate children.
Members of the Frederick community can donate a toy at Harry Grove Stadium during regular business hours, Monday through Friday, 9am-5pm. Those who donate will receive two tickets to a 2014 Frederick Keys home game along with two Keys hats.
The Toys for Tots drive will run until Saturday, December 14th, when the Keys host their annual holiday event in the Mattress Warehouse Club.
"We were extremely pleased by community support for our toy drive last year," said Marketing & Sponsorship Manager, Bridget McCabe. "Helping provide a better holiday season for many local kids through the product of Keys Baseball is very uplifting and we are glad this is now an annual partnership."
The Keys Holiday Event, held on December 14th from 10am-1pm, will feature pictures with Keyote Claus and discounts on merchandise. Fans who donate toys during the event will receive a special discount on the items that are for sale.
This article originally appeared on the official website of the Frederick Keys. Click here to view the original story.