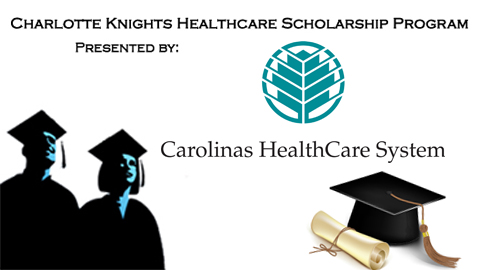 (Fort Mill, SC) – The Charlotte Knights, Triple-A affiliate of the Chicago White Sox, and Carolinas HealthCare System are dedicated to providing educational opportunities to the youth in our communities. Earlier today, in an effort to improve educational funding for high school students who are interested in pursuing a career in healthcare, the Charlotte Knights and Carolinas HealthCare System announced that they have committed to providing three $1,000 college scholarships to local high school seniors.
"The Charlotte Knights will continue to make education a primary focus for many of our community initiatives," said Chris Semmens, Vice President of Sales, Charlotte Knights.  "The Knights are excited to work with our long time partner Carolinas HealthCare System, along with local high school administrators, teachers, parents and students in providing these annual scholarships."
The 2013 Charlotte Knights Healthcare Scholarship Program is open to any high school senior enrolled in one of the following North or South Carolina counties: Cabarrus, Catawba, Chester, Gaston, Iredell, Lancaster, Mecklenburg, Rowan, Union, or York County. Applicants must be attending an accredited institution of higher education in the fall of 2013, and will be judged on academic performance; volunteer and community involvement; and sports and extracurricular activities. The three winners will be honored before a select Knights game this summer.
"Carolinas HealthCare System's vision is to lead the transformation of healthcare delivery and a key part of that effort is attracting the next generation of motivated, creative healthcare professionals," said Carol Lovin, Executive Vice President of Carolinas HealthCare System.  "Partnering with the Charlotte Knights to provide these scholarships is a great way to help turn that vision into reality."
Applications for the Charlotte Knights Healthcare Scholarship Program presented by Carolinas HealthCare System, are available at charlotteknights.com, and must be postmarked by April 30, 2013 to the Charlotte Knights for consideration. The scholarship committee will be comprised of two Charlotte Knights employees, two Carolinas HealthCare System employees, and one outside party to be selected by the Charlotte Knights.
About Carolinas HealthCare System:
Carolinas HealthCare System (carolinashealthcare.org), one of the nation's leading and most innovative healthcare organizations, provides a full spectrum of healthcare and wellness programs throughout North and South Carolina. Its diverse network of nearly 800 care locations includes academic medical centers, hospitals, freestanding emergency departments, physician practices, surgical and rehabilitation centers, home health agencies, nursing homes and behavioral health centers, as well as hospice and palliative care services. CHS works to improve and enhance the overall health and wellbeing of its communities through high quality patient care, education and research programs, and numerous collaborative partnerships and initiatives.
Full season and partial season ticket packages are on-sale now and can be purchased by calling 704-357-8071 ext. 2106 or online at http://www.charlotteknights.com. Season Tickets offer such benefits as a VIP parking pass, invitations to special events, and a unique unused ticket program. They are also the best way to ensure priority selection of seats at BB&T Ballpark. Call a Knights' representative today for more details! Knights Baseball… Tradition Never Ends.
This article originally appeared on the official website of the Charlotte Knights. Click here to view the original story.