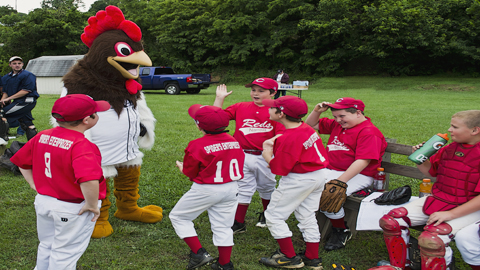 In an effort to raise awareness about the Princeton Rays, as well as reach out to the region's children and parents, P-Rays' staff members have been spotted in many area youth ballparks this spring. The team has been doing this annually each spring since 2007 to promote the beginning of the season as a part of their annual Little League Caravan. The 2011 version of the caravan concluded with stops that included Narrows, VA on June 6, along Baileysville, WV and Alderson, WV on June 9.
With the 2012 season almost underway, the recent stops have reminded fans that a fresh, new outcropping of players are set to come to Princeton for another great year of baseball in the city.
The Little League caravans are put in place to inspire the area's young players to pursue the sport of baseball and continue their journey through the amateur ranks. Seeing the Rays personnel and receiving memorabilia adds excitement to an otherwise already enjoyable day of playing baseball. "The kids get inspired when they see the Rays," said Baileysville Little League parent Brandon Hall.
Alderson Little League player Bryson Ormsbee said he wanted to suit up for the Rays one day. "Yes [I would]," said Ormsbee. "And I want to play first base." He listed his favorite player as Yankees Shortstop Derek Jeter.
Covering communities in all directions and youth leagues of all ages, the Rays also promoted their annual youth baseball camp that has been a mainstay for young ballplayers for sixteen years. The camp allows Little Leaguers ages 7 to 15 to interact with the Princeton Rays players, while gaining valuable baseball instruction in the process. It takes place on Saturday, July 28 from 9:30 A.M.- 1:00 P.M.
To get more immediate and breaking information year-round on Princeton Rays Professional Baseball as it occurs, do not forget that the P-Rays are now on Facebook. Be sure to check out and "like" our Facebook section on our website at www.princetonrays.net. Don't miss your opportunity to sign up for this free service! ANOTHER FREE OPPORTUNITY for you to keep up with your P-Rays is to follow the team on "Twitter" at @princetonrays or by accessing www.twitter.com/princetonrays.
This article originally appeared on the official website of the Princeton Rays. Click here to view the original story.