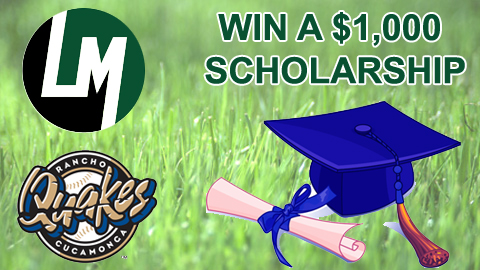 Rancho Cucamonga, CA – The Rancho Cucamonga Quakes and their Stadium Naming Rights Partner, LoanMart, will come together here in 2013 to name three (3) $1000 scholarship winners, as part of the LoanMart Scholarship Program.
Any student in the graduating class of a local high school, who is a citizen of the United States of America, and resident within the specific area of San Bernardino County, may file an application to be considered to receive one of the three scholarships to be awarded in August of 2013.
"LoanMart is committed to helping local students within the Rancho Cucamonga Community, by awarding these scholarships to encourage the pursuit of education and hard work," said LoanMart Director of Marketing Colby Estes. "We want to show the people of San Bernardino Country that we are committed to the community on and off the field."
"The Quakes are proud to team up with LoanMart to reward three students with thousand dollar scholarships and help out future leaders of our community," said Quakes Vice President / General Manager Grant Riddle.
Scholarship, leadership, community involvement, and character are criteria by which applicants will be judged. Only students of outstanding merit, who show an appreciation of the value of an education and community involvement, have a chance to win this award.
All applications are due by Friday, August 16th, with winners to be announced and recognized in a special pre-game ceremony at LoanMart Field before the end of the 2013 season.
To view and download the Scholarship Application, please click here.
This article originally appeared on the official website of the Rancho Cucamonga Quakes. Click here to view the original story.