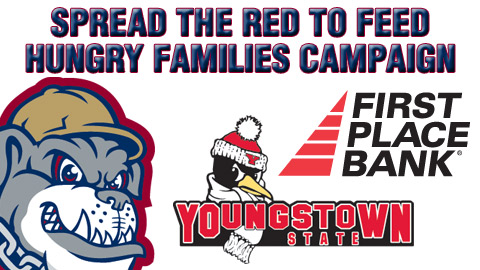 The Mahoning Valley Scrappers have teamed up with YSU Football and First Place Bank to help feed the hungry families of our Valley. Together these three organizations will use this partnership to help Valley families who are struggling to keep food on the table.
On Thursday, October 27th from 6:00pm-8:00pm the Scrappers are hosting their Annual Trick or Treat Event at Eastwood Field. Tickets are just $1 each and are available now at the Scrappers Team Office located at Eastwood Field. That evening, the Scrappers and First Place Bank are asking families to drop off canned or boxed food donations to help feed the hungry families in our Valley. The first 500 people that bring in a perishable food item and drop it off at the First Place Bank table will receive a free First Place Bank cinch bag.
"We are happy to partner with YSU football and First Place Bank at this event to make sure that we continue the effort to fight hunger in the Valley", stated Jordan Taylor, General Manager of the Mahoning Valley Scrappers.
"The First Place Bank team will continue to find ways to help put food on the tables of hungry families right here in the Mahoning Valley", stated Steve Lewis CEO First Place Bank. "We hope that Valley residents will join us the week of October 31st through November 4th and stop by one of our branches to make a donation," he concluded.
About First Place Financial Corp.: First Place Financial Corp. is a $3.1 billion financial services holding company based in Warren, Ohio, with two wholly-owned subsidiaries: First Place Bank and First Place Holdings, Inc. Through First Place Bank, the Company operates 41 retail locations, 2 business financial service centers and 24 loan production offices. Wholly-owned subsidiaries of First Place Holdings, Inc. include First Place Insurance and Title Works Agency, LLC. Additional information about First Place Financial Corp. may be found on the Company's web site: www.firstplacebank.com.
This article originally appeared on the official website of the Mahoning Valley Scrappers. Click here to view the original story.