Here is a link to the original story on the team's website.
El Pasoans Fighting Hunger among CommUNITY grant recipients
The El Paso Chihuahuas have partnered with El Pasoans Fighting Hunger for as long as the team has been an existence, establishing ties with the nearby food bank during the team's inaugural season of 2014. From hosting staff volunteer events to conducting food drives at the ballpark, the Chihuahuas have seen EPFH's important work in the community up close.
Given that longstanding relationship, the Chihuahuas' front office didn't have to look far when deciding which organization to nominate for one of Minor League Baseball's CommUNITY grants.
"We are proud to see our friends at EPFH benefit from the generosity of MILB Charities," said Brad Taylor, the Chihuahuas' senior vice president and general manager. "Their work in El Paso and the surrounding areas is never ending and this will surely help their mission."
That mission, according to EPFH, is to "combat the hunger crisis in our region by strategically procuring and distributing nutritious food through community partners," crucial work with a need that has grown significantly since the start of the COVID-19 pandemic.
The El Paso community has been impacted so severely by the pandemic that EPFH has already surpassed its 2019 food distribution numbers. Last year the food bank distributed more than 32.5 million pounds of food in the Borderland area; this year through May, EPFH has already distributed more than 50 million pounds, with 15 million pounds distributed in May alone.
What does all that mean for the children, single-parent households, veterans, senior citizens and working class families the organization serves? Simply stated, quite a lot.
EPFH has been providing food to 8,000 families daily via their drive thru program since the beginning of the pandemic — numbers are on par with what food banks in much larger markets like Detroit and Chicago but with a fraction the staff. A member of Feeding America, the nation's largest hunger relief network, the organization also recently launched a home delivery service for families impacted by COVID-19 as well as seniors and persons with disabilities.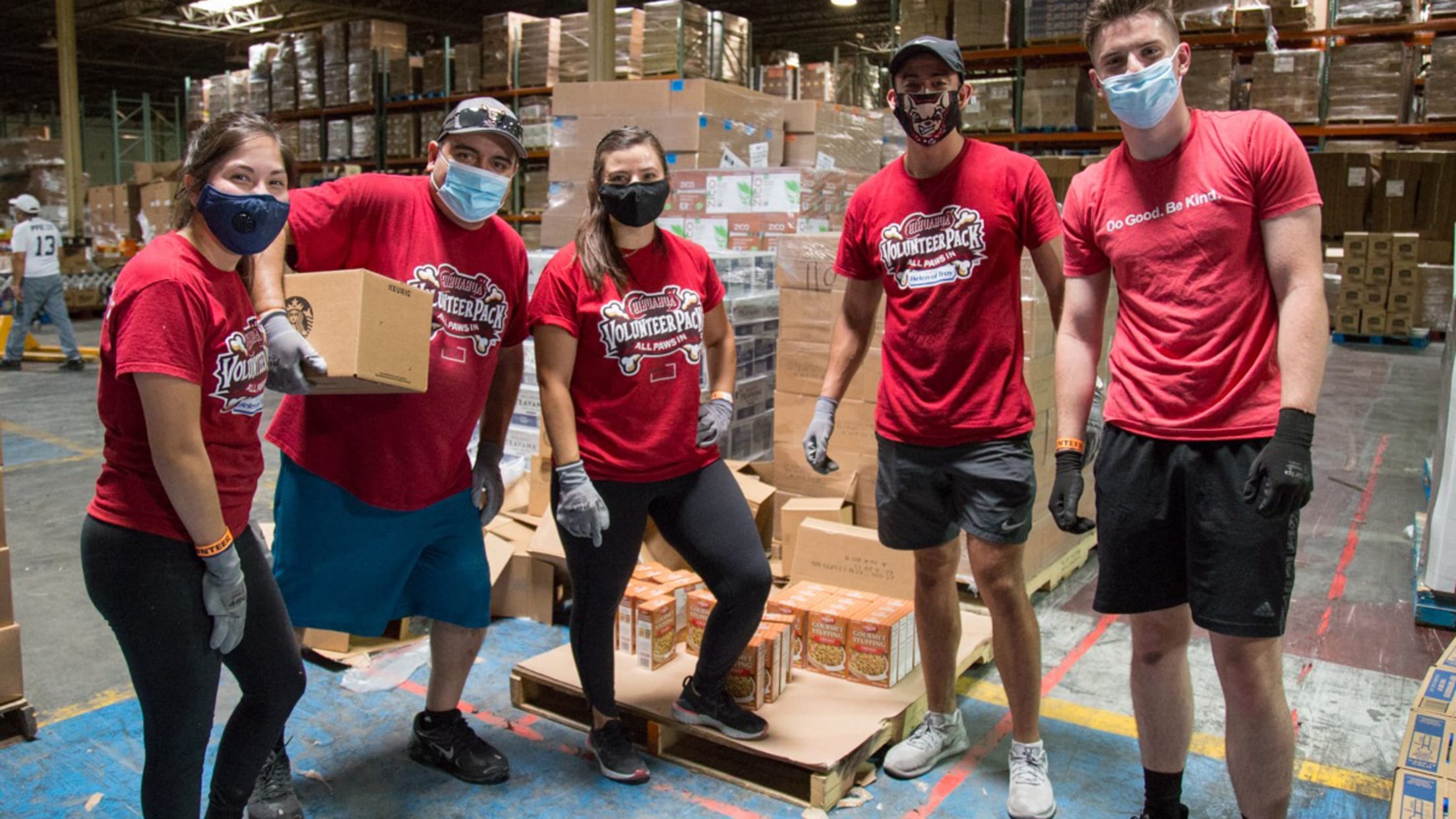 Of course, getting that much food into the community requires a lot of volunteers, and EPFH does its best to keep everyone safe in the age of social distancing. The $500 grant on behalf of MiLB Charities will help toward the purchase of food boxes, of course, but also personal protective equipment for volunteers to give them peace of mind to continue their efforts.
"We are thankful for this generous gift, which will provide 3,500 meals to El Pasoans who are struggling with food insecurity," said EPFH chief executive officer Susan Goodell, who added that the total will actually be 7,000 meals when you add a matching gift from the El Paso Chihuahuas Foundation. "These food boxes will not only provide individuals and families with the nourishment needed to sustain themselves, but will allow households to redistribute their expenditures as necessary – on housing, utilities, medical care or education needs. As a result, parents of food insecure households will begin to create a path for financial and longer-term sustainability."
In addition to El Pasoans Fighting Hunger, the other winning organizations of a CommUNITY grant were Dreams Go On (Altoona Curve), the Young Black Leadership Alliance (Charlotte Knights), Charleston Hope (Charleston RiverDogs) and the Hispanic Interest Coalition of Alabama (Birmingham Barons).
"A program like this one shows that even without games, Minor League Baseball can deeply enhance and improve their communities," said Taylor.