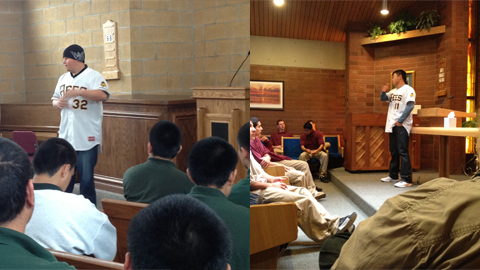 Hank Conger knows about challenges.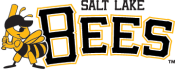 The 24-year-old Salt Lake Bees catcher was drafted out of Huntington Beach, Calif., in the first round of the 2006 MLB Draft by the Los Angeles Angels of Anaheim. Conger went from being an 18-year-old kid still living at home to being a professional baseball player out on his own within one month's time.
Thursday, Conger spent part of his morning talking to a group at the Wasatch Youth Center in South Salt Lake about the difficult times he has encountered in professional baseball. Conger also answered questions from the crowd of around 40 youth about topics ranging from how he hits a baseball that comes at him so quickly to how he interacts with his teammates after a win.
"One of the biggest things I've learned as far as myself and my actions that I display is that I respect myself and, at the same time, I respect the team, the Bees, the Angels," said Conger. "You look at yourself and respect yourself first. You tend to make better decisions in your life when you do that."
Bees infielder/designated hitter Paul McAnulty met Wednesday morning with a group of youth at the Decker Lake Youth Center in West Valley City.
McAnulty talked about choices and how they lead you to where you are. He told the group about his choices, especially those he made earlier in his life, and how they have helped him achieve his dream of playing professional baseball.
"Choices lead you to where you are today. Some people might say it was your situation or your circumstance, but I believe you were in that situation or circumstance because of your choices," said the Oxnard, Calif. native.
McAnulty continued with a reminder, "Don't let other people tell you that you can't do something. You can do or be whatever you want."
The Bees are in the fifth year of the team's mentoring program with Utah's Juvenile Justice Services (JJS). The program includes player visits to facilities as well as inviting JJS groups to the ballpark for a player-given tour and tickets to a Bees game.
This article originally appeared on the official website of the Salt Lake Bees. Click here to view the original story.