Here is a link to the original story on the team's website.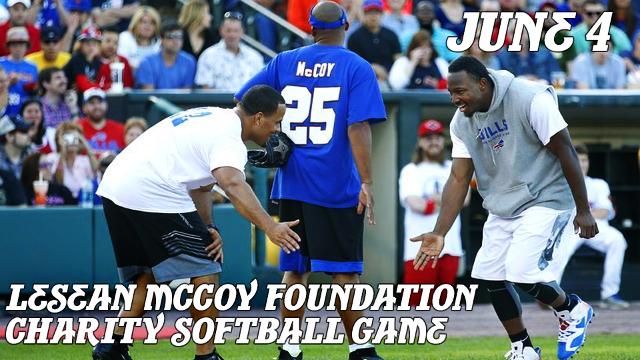 The LeSean McCoy Foundation and Rochester Red Wings have announced the fourth annual LeSean McCoy Charity Softball Game will be held at Frontier Field on Sunday, June 4 with festivities beginning at 2 p.m.
McCoy and his Buffalo Bills teammates will take on a team of local heroes comprised of police, firefighters and emergency medical technicians. Former NFL players who have participated in this event in the past include Cam Newton, Victor Cruz, DeSean Jackson, Jeremy Maclin, Brian Westbrook, Thurman Thomas, Sammy Watkins, Chris Hogan and Tyrod Taylor.
Gates will open at 1 p.m. The Home Run Derby begins at 2 p.m. with the game starting at approximately 3 p.m.
Tickets will go on sale Friday, April 28 at 9:00 a.m. at Frontier Field Ticket Office, online at RedWingsBaseball.com or by calling (585) 423-WING. Tickets are $25 for platinum box, $20 for premium box, $15 for upper box and $10 for reserved. Red Wings Season Seat Holders will have until Thursday, April 27 at 5:00 p.m. to claim their seat location. On Friday, April 28, those seats will be released for sale to the general public.
A limited number of suites will be available for this event. A 16-person suite including food and non-alcoholic beverages will be $750. Fans purchasing these suites can buy additional tickets (up to four) at $25 each. A 10-person suite with the same amenities is $600 and additional tickets (up to two) can be purchased for $25 each.
This year's softball game will feature live autograph signings, a silent auction and several raffles.
Proceeds from the event will be directed to the LeSean McCoy Foundation to provide educational and resource programs to disadvantaged youth and to raise awareness and funds directly benefitting individuals and families battling Amyotrophic Lateral Sclerosis. LeSean's grandmother, Maryann Branch, lost her battle with ALS.
Tickets to this charity event are considered a non-refundable donation the LeSean McCoy Foundation. No refunds will be issued due to inclement weather if the event cannot take place.
Media wishing to cover the event must contact Theresa Jones of the LeSean McCoy Foundation at theresa.t1@gmail.com.
This story was not subject to the approval of the National Association of Professional Baseball Leagues or its clubs.