River Bandits will also offer exclusive deal on 2014 Kids Club memberships for youth 14 and under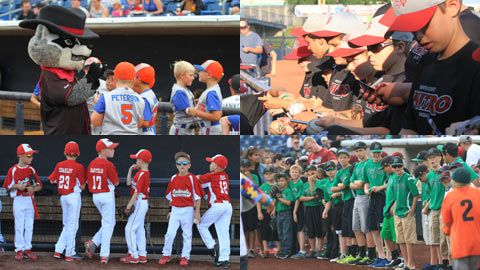 For the sixth consecutive year, the Quad Cities River Bandits will host Davenport Little League baseball and softball registration indoors at Modern Woodmen Park. On Saturday, Feb. 8, from 9 a.m. to 2 p.m. Little Leaguers from throughout the Davenport area will visit the ballpark to register for their upcoming season.
By centralizing the registration at Modern Woodmen Park, this event incorporates all the Davenport Little Leagues, regardless of age or level, into one central location and has greatly assisted organizers in streamlining the registration process the last five years.
"We welcome these young athletes and their families to the Modern Woodmen Park experience, which is all about families creating memories that last a lifetime," said River Bandits co-owner Dave Heller. "Kids and parents alike love incorporating Modern Woodmen Park and professional baseball into the Davenport Little Leagues, and we are thrilled to continue our support of the Little League programs and youth sports in the Quad Cities."
All the local leagues – including the North, Northwest, East, Southeast, West Softball, Emeis, East Softball, Pony, Colt and Challenger Leagues – will hold registration on Feb. 8. Registration is required even if the child has previously played. At least one parent or legal guardian must be present with proof of residence and an original or state-certified copy of the child's birth certificate, which will be returned at the registration. Also, the leagues require a completed registration form, medical release form, and the fee for registration.
For children ages 14 and under attending the Little League registration, the River Bandits will also offer an exclusive, one-day special on 2014 Kids Club memberships. Normally $30 per child 14 and under, a Kids Club membership will be $25 at Modern Woodmen Park on Saturday, Feb. 8, only. A Kids Club Membership includes a free bleacher ticket good for all River Bandits 2014 regular season home games, a membership card, a T-shirt, a 10 percent discount off purchases in the team store, an email newsletter with exclusive special offers and much more.
The River Bandits will also have select merchandise available for purchase, as well as information about ticket plans and group outings at the ballpark this season. Families and individuals may also purchase or renew their season ticket packages for the 2014 season.
"As a community-based venue, Modern Woodmen Park is ideal for kicking off the little league year," said Genearal Manager Andrew Chesser. "As added fun, kids will register at a professional ballpark within the same week the pros are reporting for spring training!"
Questions about the Feb. 8 registration can be directed to Brittany Carter in the River Bandits front office at 563-324-3000.
UP NEXT: Call today to reserve a Valentine's Day dinner at Modern Woodmen Park for Friday, Feb. 14, or Saturday, Feb. 15. Couples can enjoy a gourmet four-course dinner in a private luxury suite or take in the spectacular views of the ballpark, Centennial Bridge, Mississippi River and downtown Davenport from a table in the glass-enclosed, climate-controlled Sky Deck. Reservations are due Thursday, Feb. 6, by calling 563-324-3000. To order ticket plans – with new lower prices – for next season, call the River Bandits box office at 563-324-3000 or visit www.riverbandits.com to download the season ticket order form. Season ticket and mini-plan packages start at just seven games and begin at less than $40. Call a River Bandits account representative today to choose your seats and get the details of our various mini-plan packages.
ABOUT THE BANDITS: Having just been named Ballpark Digest's winner of Best Ballpark Improvement in America under $1 million, the River Bandits ownership is making one of the biggest improvements to Modern Woodmen Park since the ballpark was first built back in 1931! A new Ferris wheel, standing 112 feet over the playing field, is opening this spring, along with a carousel, a new ride called a "Drop and Twist," an expanded zip line, and many other new games and attractions. In 2013, the team unveiled a new 220-foot long dual zip line, a rock climbing wall, and a number of new bounce houses. The team's major league affiliate, the Houston Astros, just saw all six of its affiliates reach the playoffs – the first time in a decade any MLB team can claim such success. The River Bandits were one of three affiliates to reach the championship round and one of two to win their league championship.
This article originally appeared on the official website of the Quad Cities River Bandits. Click here to view the original story.