Here is a link to the original story on the team's website.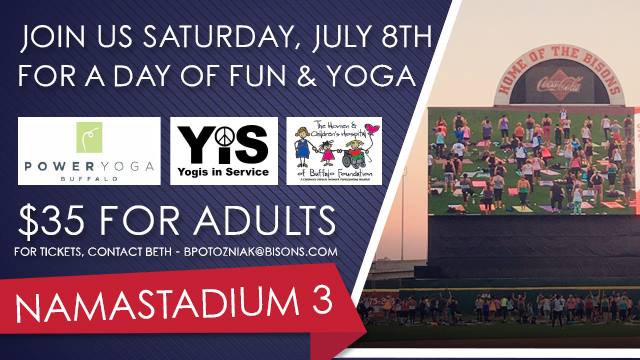 Namaste, Bisons fans!
Grab your yoga mats and join us on Saturday, July 8 at Coca-Cola Field for Namastadium 3. This annual event is a fun-filled day where fans of all ages can come out and practice their yoga poses in the outfield at Coca-Cola Field.
Doors open at 11 a.m. The yoga class, led by instructors from Power Yoga Buffalo, runs from 11:30 a.m. to 12:45 a.m. The relaxation continues after class with light food and drinks available from 12:45 p.m. to 2 p.m.
The cost for adults is $35, which includes a ticket for the yoga and one Buffalo Bisons flex ticket (which can be redeemed for a ticket to any Bisons home game excluding special events). Proceeds benefit Women & Children's Hospital of Buffalo and Yogis in Service. Children 12 years old and younger are FREE to attend the kid's portion, run by Yogis in Service. Advance registration is required for children.
CLICK HERE to purchase tickets. You can also purchase tickets at Power Yoga Buffalo, lululemon Buffalo, or by contacting Beth Potozniak at (716) 846-2040 or bpotozniak@bisons.com.
This story was not subject to the approval of the National Association of Professional Baseball Leagues or its clubs.