The Hagerstown Suns are pleased to announce that more than $6,000 was raised on Nick Adenhart Night at Municipal Stadium Tuesday. These proceeds from the silent auction and a portion of ticket sales will be donated to the Nick Adenhart Memorial Fund.
Adenhart grew up in the Hagerstown community and was a well-known athlete throughout the region before he reached the national stage with the Angels. In 2009, he was killed in an automobile accident. After his passing, a community foundation that provides funds for youth baseball organizations was established in his memory.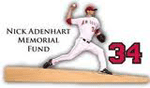 The Nick Adenhart Memorial Fund provides financial support to nonprofit youth baseball organizations that support the growth of the individual, the value of teamwork and the advancement of the game in their community.
This article originally appeared on the official website of the Hagerstown Suns.  Click here to see the original story.