Here is a link to the original story on the team's website.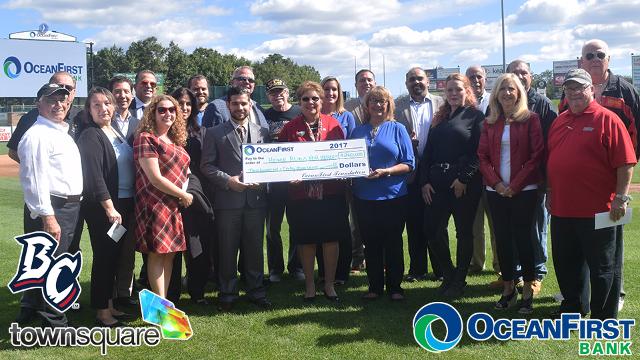 In nine years, the Home Runs for Heroes program has raised over $260,000.
—
LAKEWOOD, NJ – OceanFirst Foundation donated over $40,000 to area military-based non-profit organizations through the 2017 Home Runs for Heroes Program. The program is a partnership between the BlueClaws, OceanFirst Foundation, and Townsquare Media.
Home Runs for Heroes Grants provide financial support to charities that meet the emergency basic needs of veterans and local service men and women – active and retired – and their families during difficult times. Non-profits were paired with each inning of the game and each BlueClaws home run hit at FirstEnergy Park meant a $1,000 donation to the charity corresponding with the inning in which the home run was hit.
| Organization | Inning | Home Runs | Total |
| --- | --- | --- | --- |
| Operation First Response | 1st | 2 | $2,000 |
| Chariot Riders & Navy-Marine Corps Relief | 2nd | 4 | $4,000 |
| American Recreational Military Services | 3rd | 1 | $1,000 |
| GI Go Fund & Jewish Federation/Take the Wheel | 4th | 4 | $4,000 |
| Army Emergency Relief & National Guard State Family Readiness Council | 5th | 1 | $1,000 |
| VetGroup & Catholic Charities | 6th | 5 | $5,000 |
| American Red Cross | 7th | 8 | $8,000 |
| Lt. Dennis W. Zilinski Memorial Fund | 8th | 3 | $3,000 |
| Citizens Veterans Advisory Committee | 9th + Extras | 1 | $1,000 |
Home runs hit in the second, fourth, fifth, and sixth innings meant $1,000 donations to two charities, so $43,000 was donated for the BlueClaws 29 home runs hit at FirstEnergy Park this year.
The program, which just completed its ninth season, has now raised $260,000 to area non-profits thanks to the donations of OceanFirst Foundation.
Darick Hall led the BlueClaws with seven home runs at FirstEnergy Park this year, while Brett Barbier hit four and Arquimedes Gamboa hit three. Austin Listi hit two, including a walk-off home run in the 12th inning of the final game of the season, bringing a $1,000 donation to the Citizens Veterans Advisory Committee. This was the lone BlueClaws home run hit in the ninth inning or extra innings this year.
The BlueClaws are the Jersey Shore's top stop for affordable, family entertainment. The 2018 schedule has been released and 2018 BlueClaws ticket packages and group outings are currently on sale.
Since its founding in 1902, OceanFirst Bank has built a solid reputation and legacy as a good neighbor and responsible corporate citizen. The Bank's strong commitment to helping families, organizations, schools and communities throughout central and southern New Jersey meet their financial needs has spanned several generations, reaching new heights in 1996 with the creation of OceanFirst Foundation. The Foundation provides grants to organizations that meet community needs within the OceanFirst market. Since its inception, OceanFirst Foundation has contributed in excess of 6,400 grants totaling more than $32 million to over 750 local charities throughout central and southern New Jersey.
– BlueClaws / OceanFirst –
This story was not subject to the approval of the National Association of Professional Baseball Leagues or its clubs.