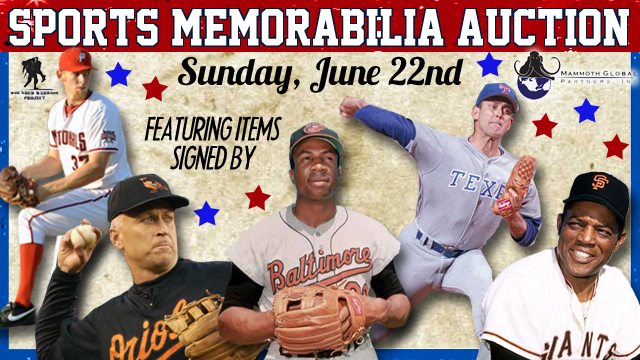 The Potomac Nationals are turning Military Appreciation Night into a "can't miss" event on Sunday, June 22nd. In addition to honoring all military members, along with appearances by former Redskin Dexter Manley and Congressman Rob Wittman, the P-Nats will hold a silent auction during the game with dozens of iconic baseball memorabilia items thanks to Reality Realty and Mammoth Global Partners.
The centerpiece of the items is a Stephen Strasburg autographed inaugural game ticket collage, which will be raffled off for free for all military attendees. Other coveted items available for bid by the general public will be a Cal Ripken Jr. autographed bat and a signed Willie Mays photo and baseball. All of the money raised in the auction will go to Arms Outstretched Ministries benefitting the wounded warriors of Bethesda and Belvoir.
A complete list of the items in the silent auction can be found below:
Stephen Strasburg Autographed Inaugural Game Ticket Collage (to be raffled off for all military attendees)
Cal Ripken Jr. Autographed Bat
Willie Mays Autographed 16×20 Photo
Willie Mays Autographed Baseball
Stephen Strasburg Autographed 16×20 Photo
Sports Illustrated Magazine Signed by Tom Seaver and Nolan Ryan
Cachet Collage Signed by Cal Ripken Jr. and Cal Ripken Sr.
Orioles "Golden Boys" Photo signed by Cal Ripken Jr., Jim Palmer, Bobby Grich, Davy Johnson, Brooks Robinson, Paul Blair and Roberto Alomar
Replica Redskins Helmet Signed by Doug Williams
Alfred Morris Autographed 16×20 Photo
Michael Oher Autographed Football
Joe Theismann Autographed 8×10 Photo
Frank Robinson Autographed Baseball
Duke Snider Autographed Baseball
Whitey Ford Autographed Baseball
Eddie Murray Autographed Baseball
Jim Palmer Autographed Baseball
Cal Ripken Jr. "Ironman" Giclee
Manny Machado Autographed Baseball
Pregame festivities will feature player autographs in the concourse and a pre-game ceremony for military persons in attendance. Post game will feature Sunday staples with fireworks and kids run the bases presented by Glory Days Grill. First pitch is set for 6:05 ET against the Salem Red Sox.
This article originally appeared on the official website of the Potomac Nationals. Click here to view the original story.