Here is a link to the original story on the team's website.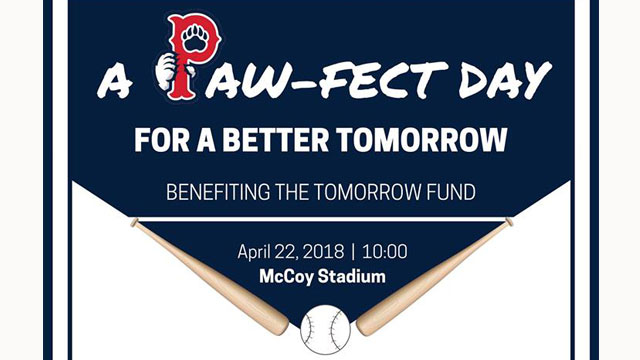 Today Emerson College and the Pawtucket Red Sox have announced a joint project to benefit the Tomorrow Fund.
Department of Communication Studies Professor Cathryn Edelstein's Nonprofit Fundraising Campaign class is partnering with the PawSox to host a game and activities entitled: "A Paw-fect Day for a Better Tomorrow." The special game will take place on Sunday, April 22, with festivities starting at 10am. Tickets include breakfast, interactive entertainment, a tour of McCoy Stadium, a ticket to the game, and a $5 credit toward lunch.
"Emerson College students collaborating with the PawSox to benefit The Tomorrow Fund kids with cancer is a win-win-win!" said Professor Edelstein. "This year I'm so pleased we are working to not only raise money for The Tomorrow Fund, but help spread awareness about the incredible assistance they provide for kids with cancer and their families."
"We are honored to work with these community minded students who are gaining invaluable experience in the world of philanthropy," said Dr. Charles Steinberg, President of the Pawsox and Director of Sports Communication at Emerson College, "not only do we hope this experience is rewarding for them, we hope it will benefit the Tomorrow Fund- an organization we love deeply and admire so much."
Up to 75 individuals attending the event can experience what it is like to hit a ball in a professional field, at our Home Run Derby which starts at 10:30am. Those who sign up will have the chance to participate to see who hit a ball the furthest. After purchasing tickets you can sign up for the derby at https://goo.gl/forms/VBZKcUrj3805Wx8n1.
Tickets for students are $15, and General Admission tickets are $25; tickets are on sale now at https://tinyurl.com/ybaynllx.
About the Tomorrow Fund 
The Tomorrow Fund is a non-profit organization located in Rhode Island. It provides daily financial and emotional support to children with cancer and their families who are treated in The Tomorrow Fund Clinic at Hasbro Children's Hospital in Providence, RI. Kids can come from anywhere in the world. To date, more than 2,000 children and their families have received financial and emotional support from The Tomorrow Fund.
About Hasbro Hospital 
A division of Rhode Island Hospital, Hasbro Children's Hospital is the region's premier provider of pediatric clinical care. The hospital offers a broad spectrum of both routine care and specialty programs not available elsewhere. Hasbro Children's has the only pediatric emergency department, Level 1 Trauma Center, pediatric critical care teams, and 24-hour ambulance in the region. Their approach to pediatric medicine makes parents, who know their children best, an essential part of the care team.
About Emerson College
Based in Boston, Massachusetts, opposite the historic Boston Common and in the heart of the city's Theatre District, Emerson College educates individuals who will solve problems and change the world through engaged leadership
in communication and the arts, a mission informed by liberal learning. The College has approximately 3,780 undergraduates and 670 graduate students from across the United States and 50 countries. Supported by state of the art facilities and a renowned faculty, students participate in more than 90 student organizations and performance group. Emerson is known for its experiential learning programs at Emerson Los Angeles, located in Hollywood, and at its beautifully restored 14thcentury castle in the Netherlands. Additionally, there are opportunities to study in DC, London, China, the Czech Republic, Spain, Austria, Greece, France, Ireland, Mexico, Cuba, England, and South Africa. The College has an active network of 37,000 alumni who hold leadership positions in communication and the arts.
This story was not subject to the approval of the National Association of Professional Baseball Leagues or its clubs.