Here is a link to the original story on the team's website.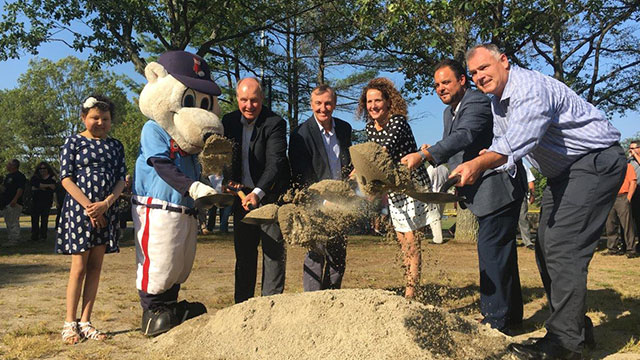 On Tuesday, September 5, the Rhode Island Building & Construction Trades Council and the Pawtucket Red Sox announced their organizations' newly formed charitable partnership, Building Baseball.
The concession stand will be in use by next baseball season, and will allow Nap Lajoie Field in the City of Woonsocket to be eligible for state and regional tournament play.
"We are grateful Building Baseball has chosen our city as its first project to enhance our Little League field," said Woonsocket Mayor Lisa Baldelli-Hunt. "The concession stand will fulfill the final requirement for utilizing the Napoleon "Nap" Lajoie Field for tournament play. I am looking forward with great anticipation and am extremely excited for the use of the concession stand and press box during next year's baseball season."
"One of the most vital tenets of the Building Trades is giving back to the communities where we work and raise our families," said Michael F. Sabitoni, President of the Rhode Island Building & Construction Trades Council (RIBCTC). "We know the positive impact the game of baseball has on youth and the life lessons it teaches. Through the Building Baseball collaboration with the PawSox, our highly skilled union tradesmen and women can volunteer their time and expertise to assist in the restoration and rejuvenation of ball parks, as well as inspire more passion for the sport."
"As Rhode Island's professional baseball organization, we are excited to enhance our support of the Ocean State's Little Leagues by collaborating with the hard working men and women of the Rhode Island Building Trades," said Dr. Charles Steinberg, President, Pawtucket Red Sox. "Our goal is to spark more children and young athletes to participate in the game and benefit from all the opportunities it provides. Our combined efforts through the Building Baseball partnership will translate into safer and more welcoming ballparks in Rhode Island's communities."
This story was not subject to the approval of the National Association of Professional Baseball Leagues or its clubs.