Here is a link to the original story on the team's website.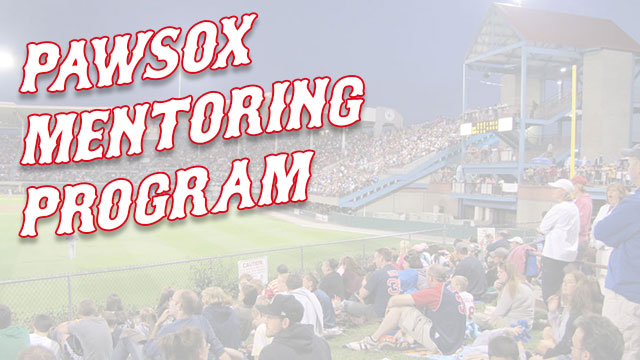 The Pawtucket Red Sox and the Rhode Island Mentoring Partnership today announced a collaboration to provide mentors to Pawtucket children at nearby Agnes E. Little Elementary School. The program, announced during National Mentoring Month, features members of the PawSox front office providing their time and attention to third-graders.
In addition, the PawSox Foundation will serve as a Silver Sponsor of the Rhode Island Mentoring Partnership's signature fundraiser, "Dancing with the Stars of Mentoring," on Thursday evening, April 27, at the Rhodes of Pawtuxet.
"At the RI Mentoring Partnership, our work is all about relationships," said Jo-Ann Schofield, President and CEO of the Partnership. "We are excited to support the mentoring relationships that will be formed between the PawSox staff and the students at Agnes E. Little Elementary School by coordinating this new mentoring program. The need for mentors is great, and we are hopeful this amazing example set by the PawSox will encourage other community-minded organizations to 'step up to the plate' for mentoring."
"This latest initiative with RI Mentoring Partnership is another example of the true partnership that currently exists between the Pawtucket School District and the PawSox organization," said Patti DiCenso, Pawtucket School District Superintendent. "It is a shining example of their dedication to providing our students with the positive influences and influential relationships needed to develop into focused students and model citizens."
"Our interaction with children is rejuvenating," said PawSox President Dr. Charles A. Steinberg. "Even though adults are considered the teachers, we realize that we are the ones learning from our students. The members of the PawSox front office eagerly embrace this opportunity to spend an hour or so each week to fortify a child's belief in his or her dreams.
"In addition to our hands-on mentoring, we are pleased that the PawSox Foundation will be a Silver Sponsor of 'Dancing with the Stars of Mentoring' in the spring. This fundraiser is a key component that fuels the successful programs that the Rhode Island Mentoring Partnership operates elsewhere in our state."
The Rhode Island Mentoring Partnership directly operates programs in five other cites: Warwick, Woonsocket, Newport, Middletown, and Cranston. This program is its first in Pawtucket.
In addition to its own programs, the Partnership supports the services of various mentoring programs statewide that provide more than 4,000 mentors to more than 5,000 students.
This story was not subject to the approval of the National Association of Professional Baseball Leagues or its clubs.