Here is a link to the original story on the team's website.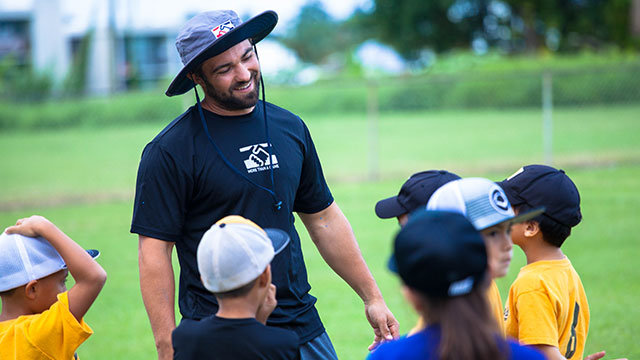 When the grueling "every day" grind of a baseball season finally comes to an end, rarely do players opt to spend more time away from their families, and impact communities that they often have no connection to. After going back to his home in California at the conclusion of the 2017 PawSox season, Mike Miller began preparing for a new venture in Hawaii, where plans to refurbish a field on the Big Island would soon come to fruition.
Miller was awarded with the PawSox' Sullivan Tire Community Spirit Award in 2017, an award given to a PawSox player who goes above and beyond in the Rhode Island Community. His most notable community efforts came over the All-Star Break when his comrades from "More Than A Game" flew to Pawtucket, and together refurbished Pawtucket's Fairlawn Little League Field with PawSox Front Office members.
Also known as MTAG, More Than A game is an organization that uses baseball to impact lives domestically and around the world through field construction, equipment donation, and instructional clinics. The project executed in Hilo, Hawaii was their sixth community service project of the year, including the group's efforts in Pawtucket.
"Mike continues to exemplify what 'More Than A Game' is all about," said Marshall Murray, Miller's longtime friend, and President/CEO of More Than A Game. "His leadership and inspiration impacts the game of baseball and communities no matter where we go."
Miller and his team rolled up their sleeves in Hilo, Hawaii, and got back to work this November. Placing down new field turface, installing a new practice mound, and donating a beautiful new set of bleachers were all some of the more notable changes made to the field on the Big Island. Their efforts concluded with a Youth Clinic put on for over 50 kids from the Big Island's Boys and Girls Club— Kids who will all be able to enjoy the newly conditioned field for years to come.
"Mike Miller is one of the most community-minded baseball players I have had the pleasure to meet," said PawSox President Dr. Charles A. Steinberg. "Mike's love of the game, and his desire to attract young people to our game, was illustrated when he spent his All-Star Break physically fixing a field in Pawtucket, and now he's spending precious off-season days refurbishing a diamond in Hawaii. He embodies the organization to which he is dedicated: 'More Than a Game.' He has our admiration, respect, and gratitude."
This story was not subject to the approval of the National Association of Professional Baseball Leagues or its clubs.