Here is a link to the original story on the team's website.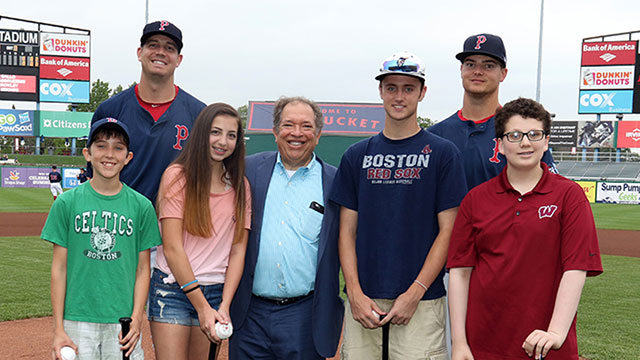 The Pawtucket Red Sox tonight introduced the first four selectees to the "PawSox Academic All-Stars" program before the opener of their twin-bill at McCoy Stadium.
The program puts the spotlight on one middle school student from each of Rhode Island's 39 cities and towns. The children are selected by educators based on academics, citizenship, and character.
"We welcome the opportunity to recognize young people throughout the state who are succeeding in school and contributing to their communities," said PawSox President Dr. Charles A. Steinberg. "Teachers remind us that a small gesture from the community's baseball team can have a large impact on a child's self-esteem, particularly in middle school. We hope their moment in the spotlight-or in the sunlight-is a source of pride for their students, their friends, and their families."
In pre-game ceremonies, each threw a Ceremonial First Pitch, and each received an authentic baseball bat engraved with their name. Each also receives a host of gift certificates from the PawSox and their sponsors.
The first four students were from Burrillville, Coventry, Newport, and Woonsocket.
The first four students were Ever Gallo, a 12-year-old 6th grader from Burrillville Middle School, and three 14-year-old 8th graders: Allison Abbruzzese of Feinstein Middle School in Coventry; Gavin Crowley of Thompson Middle School in Newport; and Andrew Simonini from Woonsocket Middle School at Villa Nova.
"It is important that our community recognizes promising students who are making an effort to better themselves and the lives around them," said PawSox Senior Vice President/Club Counsel Kim Miner, who oversees the PawSox Foundation. "That is why these students we have sought value scholarship, citizenship, and character."
The club will continue to recognize "PawSox Academic All-Stars" throughout the season. Educators seeking more information can find it at pawsox.com or by calling the PawSox, 401-724-7300.
The PawSox Academic All-Stars is the club's second major community initiative in the area of education. Last November, the club introduced its PawSox Scholars program, in which two 8th-graders, one from Pawtucket and one from neighboring Central Falls, receive a college scholarship of $10,000 from the PawSox Foundaton.
This story was not subject to the approval of the National Association of Professional Baseball Leagues or its clubs.