Indians partner with Susan G. Komen for tenth consecutive season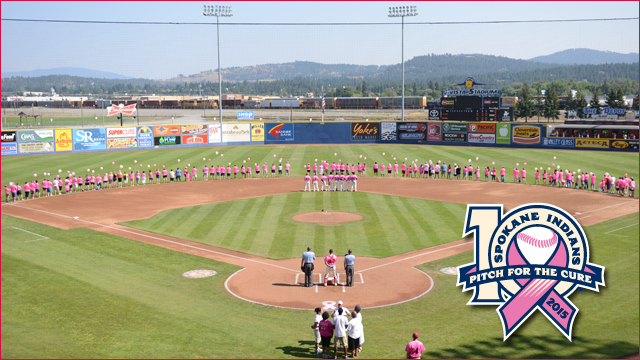 Spokane, WA – The Spokane Indians are excited to celebrate the 10th Anniversary of the Pitch for the Cure Breast Cancer Walk, presented by Mike's Hard Lemonade, this August! Click here to register!
Sunday, August 2nd, at Avista Stadium, will mark the tenth anniversary of this fun summer event. The short one-mile walk around Avista Stadium in support for Breast Cancer finishes with participants being recognized on the field during a special ceremony before the 3:30pm game. Indians players will wear pink jerseys and hats – to be auctioned – in the game against the Eugene Emeralds. The Susan G. Komen Eastern Washington affiliate will once again be the primary beneficiary of the day's festivities.
"This is the tenth anniversary of the Pitch for the Cure – that's an entire decade of raising awareness in the Spokane community…it's fantastic," said Randy Schwaegler, President of Komen's Eastern Washington affiliate Board. "The event keeps growing every year, and the support is non-stop. This is why we come out every year – to give those who fight another reason for tomorrow."
The cost for the walk is $25 for adults and $15 for kids 12 and under. Participants will receive a special edition 10th anniversary T-shirt, a donation in their name to the Susan G. Komen Eastern Washington affiliate, and a ticket to the Spokane Indians baseball game that afternoon.

Last year, the Spokane Indians donated a total of $9,000 to the Susan G. Komen Eastern Washington affiliate. In the ten year partnership, the Spokane Indians have donated over $40,000 to the Komen Foundation. Seventy-five percent of all funds donated to the Susan G. Komen Eastern Washington affiliate stays local and is given back to help those with breast cancer in Eastern Washington.
Deadline for early registration is Friday, July 17th, with a late fee of $5 after this date. Participants have until the day of event to sign-up. Packet pick-up is scheduled for Friday, July 31st from 10:00 AM to 2:00 PM at the Spokane Indians Team Store located at Avista Stadium (602 N. Havana) and the day of the walk starting at 2:30 PM at Avista Stadium.
In addition to Mike's Hard Lemonade, supporting sponsors for this year's Pitch for the Cure include Coordinated Care, Ezell's Famous Chicken, Inland Imaging, Itron, The Odom Corporation, Pepsi, Randi L. Johnson Attorney at Law, Rockwood Health System, Window World, and KXLY-AM 920.
Click here to register online, or click here to download a printable registration form. For more information on the Pitch for the Cure, please contact Walk Director Elise Rooney at (509) 343-6811, or email at erooney@spokaneindians.com.
This article originally appeared on the official website of the Spokane Indians. Click here to view the original story.