Here is a link to the original story on the team's website.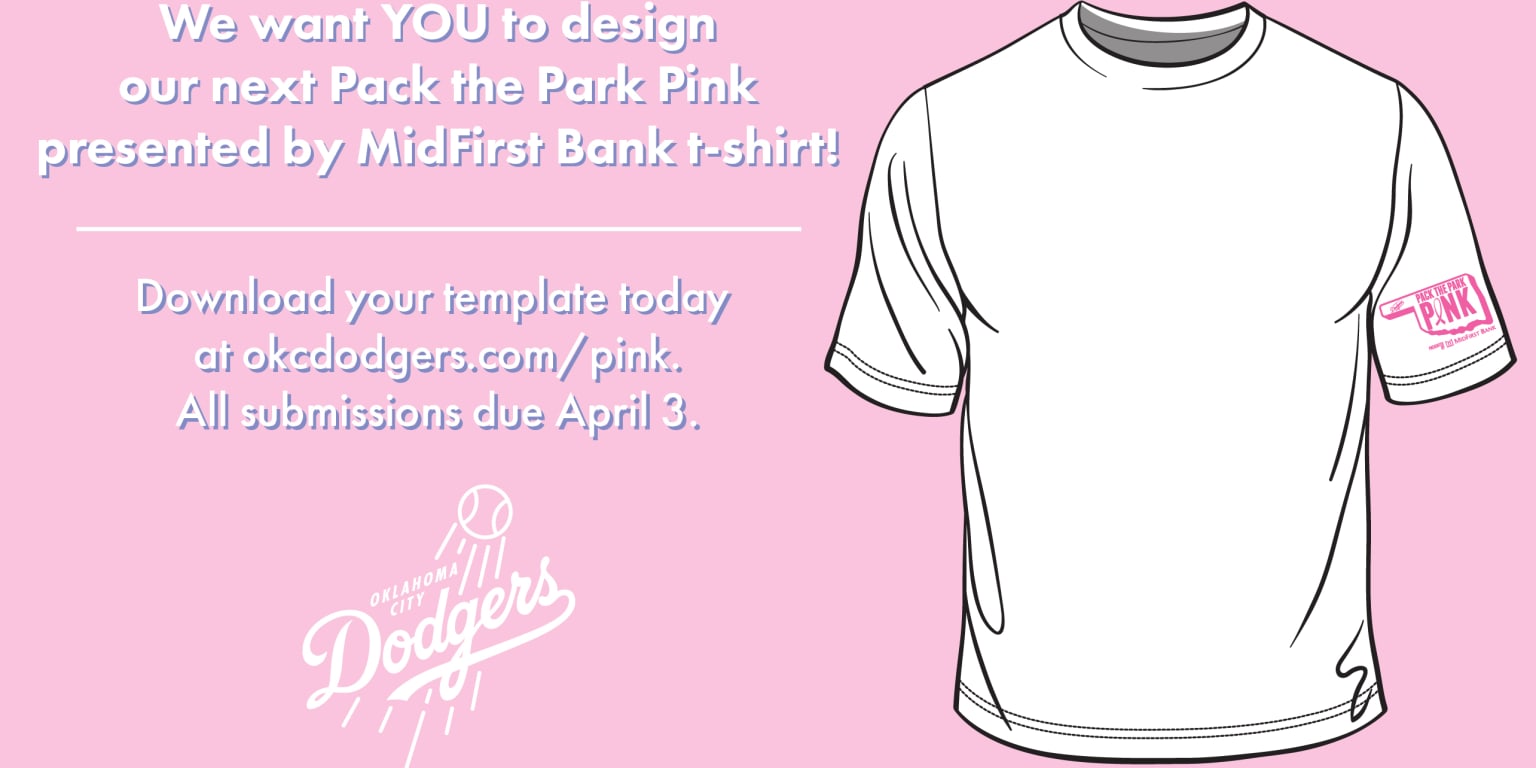 OKLAHOMA CITY – The Oklahoma City Dodgers and MidFirst Bank are calling for submissions to design this season's "Pack the Park Pink" T-shirt.
The 2020 "Pack the Park Pink" game to benefit Susan G. Komen Oklahoma and promote breast cancer awareness is scheduled for Friday, July 31, when the Dodgers face the Las Vegas Aviators.
The special limited-edition T-shirt will be gifted to all breast cancer survivors attending the game, and it will as be distributed to fans attending the game through the "Pack the Park Pink" group ticket package.
The template for T-shirt design submissions is now available to download at okcdodgers.com/pink. Each T-shirt design can feature two colors, one of which must be pink. There are no limits on the amount of submissions an individual can make, but all submissions must be received by April 3 by uploading them to okcdodgers.com/pink or via email to [email protected].
The winning design will be announced in June. The winner will receive four complimentary tickets to the "Pack the Park Pink" game and will be recognized during an on-field presentation.
"Pack the Park Pink" is an annual tradition between the Dodgers, MidFirst Bank and Susan G. Komen Oklahoma. Unique events will be held throughout the evening and "Pack the Park Pink" will culminate with a pink fireworks show following the game. More details regarding the game will be released in the future.
The Dodgers' game-worn pink jerseys and hats, in addition to pink bats, breast cancer awareness baseballs and game-used bases will be auctioned off throughout the night to benefit Susan G. Komen Oklahoma. The mission of Susan G. Komen Oklahoma is "to save lives by meeting the most critical needs in our communities and investing in breakthrough research to prevent and cure breast cancer."
A special "Pack the Park Pink" ticket package is currently available for purchase starting at $12 per person for groups of 10 or more and includes the new T-shirt and a pink Dodgers hat.
Other season ticket packages and group outings for the 2020 season are currently on sale. For more information, call (405) 218-2182 or visit okcdodgers.com.